ESB Networks has said almost five thousand customers will remain without power overnight following severe storms around the country.
Emergency repair crews are working to restore electricity to around 10,000 customers however some damage requires more extensive construction work, and 4,900 will remain without supply overnight.
ESB Networks said customers with medical conditions, the elderly and those living alone may need to make alternative arrangements.
It is expected that up to 1,850 customers will be without power in the southwest while in the mid-west 2,500 homes and businesses will be affected in Tralee, Newcastle West and Co Clare.
In the southeast it is expected that 280 customers will be without electricity in Arklow and Enniscorthy, while 180 homes and businesses will be without power in the northeast.
Additional small pockets of power outages will also be possible overnight.
ESB Networks apologised for the disruption which it has attributed to "one of the worst storms in years".
Detailed information is available at www.updatesfromesb.com
A spokesperson said 1,400 faults had been reported and power was restored to 60,000 homes and businesses during the day.
Earlier Met Éireann issued a Status Orange Alert for much of the country with gale force southwest to west winds and gusts of 100-130km/h forecast.
Cavan, Monaghan, Donegal, Dublin, Carlow, Kildare, Kilkenny, Laois, Longford, Louth, Wicklow, Offaly, Westmeath, Meath, Leitrim and Sligo also experienced severe gusts.
A Status Yellow Alert was in place for Munster, Wexford, Galway, Mayo and Roscommon with very strong southwest to west winds and gusts of 90 to 110km/h for a time.
Winds of up to 150km/h lashed the country overnight and early this morning along with heavy rain leading to dangerous conditions in many places.
AA Roadwatch has advised motorists to drive with extreme care as there are reports of trees down and spot flooding throughout the country.
Stormy conditions have also disrupted sea and air travel
The first flight from Dublin Airport departed at around 7:45am, no flights left the airport before that due to gale force winds blowing across both runways.
The Dublin Airport Authority said that severe gusts were affecting both departing and arriving planes, with a number of transatlantic flights diverted to either Heathrow or Manchester airports in the UK.
Aer Lingus cancelled 25 flights from Dublin. The airline said customers will be accommodated on the next available flights.
Ryanair said 20 flights were delayed from Dublin Airport.
One Aer Lingus flight to Manchester was cancelled at Shannon Airport but otherwise flights operated as normal.
West Airport Knock was fully operational while Donegal Airport reopened after lightning caused significant damage to essential equipment.
Some ferry sailings were also cancelled, including the Stena Line service from Dún Laoghaire at 1.30pm.
Irish Ferries said its fast ferry services between Dublin and Holyhead would not operate today and all affected passengers would be accommodated on its cruise sailings.
P&O Ferries said it would resume sailings from 10:30am, however there was a a backlog of traffic from previous sailings.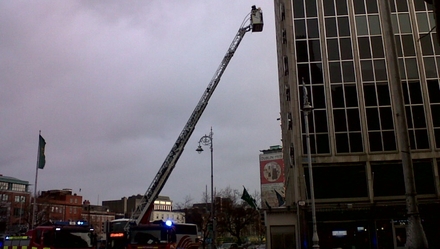 Burgh Quay in Dublin city centre was closed for a short time to allow repairs to be carried out on signage at O'Connell Bridge House.
Rail lines hit by debris
Iarnród Éireann reported overhead line damage between Dún Laoghaire and Blackrock after a trampoline hit the line, causing delays.
Pearse Station was closed due to roof damage. Trains were running through the station, but not stopping. Passengers were advised to use Tara Street or Grand Canal Dock stations instead.
Eircom said 8,200 customers are without telephone and broadband services.
It said the problem is widespread but the worst impacted areas are Cork, Galway, Mayo, Kilkenny, Carlow, and Wexford.
It added that working conditions remain extremely difficult and conditions are hampering repair efforts in some areas.
Eircom said 700 crews are operating nationwide to restore services.
Northern Ireland Electricity said around 3,600 customers were still without power following the severe gales.
A number of flights were diverted from George Best City Airport to Belfast International last night and arrivals and departures at City Airport were affected today.
Ferry sailings to Rathlin were cancelled as were the P&O sailings from Larne; Stena's sailing from Belfast to Liverpool was also cancelled.
Meanwhile, racing at Leopardstown and Limerick went ahead as planned.