Egyptian riot police fired tear gas and water cannon to disperse hundreds of pro-Islamist protesters demonstrating near the headquarters of the ministry of defence in Cairo yesterday, security sources said.
Egypt has witnessed almost daily protests by supporters of ousted Islamist president Mohammed Mursi since the army removed him in July after mass protests against his rule.
The United States said Egypt should uphold international standards when it dealt with such unrest.
"The government has a responsibility to protect universal human rights and the fundamental freedoms, including the ability to non-violently protest," State Department spokeswoman Marie Harf said.
Mr Mursi's removal opened the bloodiest chapter in Egypt's modern history.
Security forces have killed hundreds of his supporters, while about 200 soldiers and policemen have been killed, many in attacks by Islamist militants in the Sinai peninsula, bordering Israel and Gaza.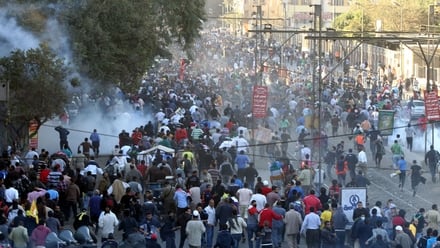 Students supporting Mr Mursi have been staging daily protests for months inside and outside their universities.
Last month, Egypt's army-installed interim government issued a law that banned protests near or originating from places of worship.
It also made it compulsory to seek Interior Ministry permission to hold a demonstration.
Since the law was passed, hundreds of Brotherhood protesters and other liberal activists have been arrested for demonstrating without police permission.