Chemical weapons were likely used in five out of seven attacks investigated by UN experts in Syria, according to the final report of a UN inquiry.
UN investigators said the deadly nerve agent sarin was likely used in four incidents, in one case on a large scale.
The report noted that in several cases the victims included government soldiers and civilians, though it was not always possible to establish with certainty any direct links between the attacks, the victims and the alleged sites of the incidents.
"The United Nations Mission concludes that chemical weapons have been used in the ongoing conflict between the parties in the Syrian Arab Republic," the final report by chief UN investigator Ake Sellstrom said.
Syria's UN Ambassador Bashar Ja'afari and the opposition Syrian National Coalition did not immediately comment on the 82-page report.
The investigation found likely use of chemical weapons in Khan al-Assal, near the northern city of Aleppo, in March; in Saraqeb, near the northern city of Idlib, in April; and in Jobar and Ashrafiat Sahnaya, near Damascus, in August.
As initially reported by Mr Sellstrom in September, there was "clear and convincing" evidence that sarin was used on a large-scale against civilians in the rebel-held Damascus suburb of Ghouta on 21 August, killing hundreds of people.
In the final report published yesterday, the experts said sarin had likely also been used on a small-scale in Jobar, Saraqeb and Ashrafiat Sahnaya.
The inquiry was only looking at whether chemical weapons were used, not who used them.
The Syrian government and the opposition have accused each other of using chemical weapons, and both have denied it.
EU 'failing to support refugees'
Meanwhile, Amnesty International has accused European Union countries of "miserably" failing to support Syrian refugees.
In a briefing document published today, the organisation said only ten EU countries had offered to take in refugees.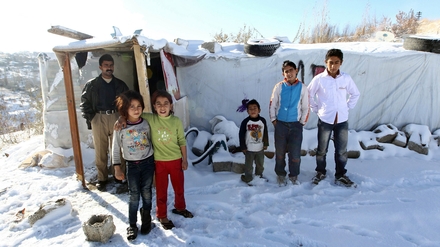 Germany has agreed to take in the most refugees at 10,000, while Ireland has pledged 90 resettlement places.
The UK and Italy are among the 18 states that have not offered any resettlement places.
Amnesty International said the two-year conflict in Syria has resulted in 6.5 million people being forced from their homes, more than 100,000 being people killed and hundreds of thousands of civilians injured.
"Fortress Europe" is how Amnesty described the policies and practices adopted by EU member states to keep displaced people out, saying it is nearly impossible for refugees or asylum-seekers to reach Europe lawfully.
As a result, it said, they are forced to take dangerous journeys, risking their lives on boats or across land, to seek safety and protection in Europe.
In July, the UN made the largest humanitarian appeal in its history, but just over half of the aid needed has been pledged, according to the briefing document.
Amnesty is appealing to the international community to ensure there is adequate funding for humanitarian appeals.
It also called for an urgent and significant increase in the number of places available for resettlement.
It urged all states to keep their borders open for those fleeing the war torn country.