Thousands of people queued today to say goodbye to Nelson Mandela, whose body is lying in state in Pretoria in the building where he was inaugurated in 1994 as South Africa's first black president.
Several people fainted in the heat as South Africans waited their turn to file past Mr Mandela's casket after family members, foreign dignitaries and celebrities paid their respects. 
Over the next three days, thousands more are expected to file past his remains at Union Buildings.
President Michael D Higgins spoke on behalf of EU leaders at an event in Pretoria this afternoon, hosted by South African President Jacob Zuma.
He said Mr Mandela's legacy will last not only for Africa, but for the world and "he breathed great courage into movements that required great change including the ending of apartheid".
President Higgins said that to have met Mr Mandela was "to be in the presence of the great grace of the human spirit.
"He would want us to continue his efforts to put the stamp of
humanity on our times for the sake of future generations."
President Higgins and his wife Sabina paid their respects to Mr Mandela this morning.
In Pretoria, the mood was more sombre than jubilant, a marked departure from yesterday's memorial in Soweto, where the crowd danced and sang in the rain to honour Mr Mandela's memory.
The heat and lack of access to water and toilets caused several people to pass out. Tempers frayed as mourners waited in line for their last chance to see the man regarded as the father of democratic South Africa.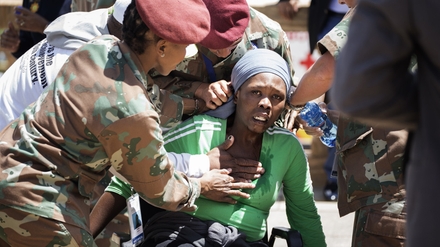 "There's a 5,000-strong crowd here. There's not one mobile toilet, no water, there's nothing for the people. People are becoming upset and frustrated," said Ronelle Johnson-Hoskins, who had been queuing since morning.
Mr Mandela's death on Thursday at the age of 95 has brought an outpouring of grief and mourning in the country he led as president from 1994 to 1999, as well as celebration and thanksgiving for his life and achievements.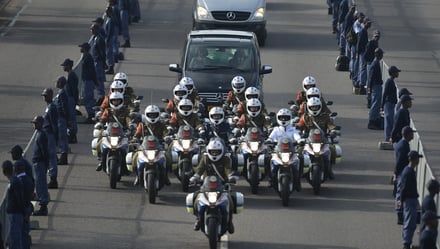 Earlier, the cortege travelled from a military hospital where it was received by Mr Mandela's grandson, Mandla, before being placed in a specially constructed marquee.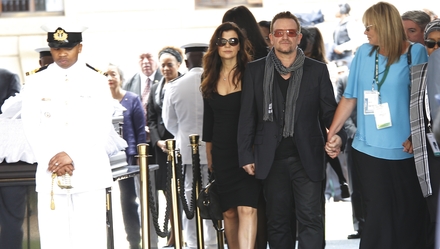 Among those who filed past the casket this morning were singer Bono, model Naomi Campbell and Zimbabwean President Robert Mugabe.
FW de Klerk, South Africa's last white president, who shared the Nobel Peace Prize with Mr Mandela, appeared to wipe away a tear as he passed the coffin.
Tomorrow and Friday, members of the public will be allowed to view the remains all day.
This is the last chance the public has to take part in the events to mark Mr Mandela's passing.
On Saturday, his remains will be flown to the Eastern Cape from the Waterkloof Air Force Base in Pretoria.
A state funeral will take place on Sunday in his native Qunu, 700km south of Johannesburg, bringing ten days of mourning to an end.
South African media are estimating that up to 70,000 people could travel to Qunu for the funeral.
The village was blanketed in thick mist and the heavy rain had churned up mud roads, making them difficult for vehicles to negotiate.
Poor weather in the Eastern Cape has disrupted preparations for the weekend funeral, but conditions are expected to improve in the coming days.
Meanwhile, the South African Embassy in Dublin has said that a memorial service for Mr Mandela will be held at St Patrick's Cathedral tomorrow at 7.30pm.
A live screening of the state funeral will take place at Meeting House Square in Temple Bar on Sunday from 9am.
The embassy said it was an occasion for "South Africans, Irish and all nationalities to remember and celebrate a global icon and a true patriot".