Police beat protesters and journalists outside of the Ukrainian presidential administration building where a group of young men tried to break police lines.
Protesters fired flares at police who threw them back and shot stun grenades into the crowd.
Riot police started pushing protesters out of the square in front of the presidential administration building and beating those who refused to leave.
Broadcaster Euronews said on its Facebook page that police deliberately attacked a Euronews crew covering the clashes. The news organisation said cameraman Roman Kupriyanov was wounded and his camera destroyed.
Mass protests drew several hundred thousands out on the streets to protest the government's decision to forego an EU deal and a violent crackdown by police on protesters.
The rally, by far the biggest seen in the Ukrainian capital since the Orange Revolution nine years ago, came a day after a police crackdown on protesters that inflamed demonstrators further after President Viktor Yanukovich's policy switch.
While the main protest on Kiev's Independence Square was peaceful, groups of roving masked men with sticks broke windows and confronted police at the presidential administration building.
Opposition leaders sought to distance themselves from the groups of protesters.
The protesters broke windows along Kiev's main street and used a bulldozer to try to break a police blockade around the presidential administration.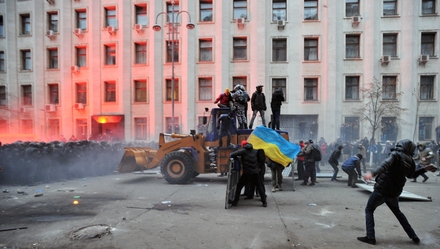 The opposition said that authorities had deliberately planned the provocations and clashes to give Mr Yanukovich a pretext for declaring a state of emergency.
In an address to Ukrainians carried on his web site, the president called for an immediate and objective investigation so that those guilty could be punished, though he did not specifically blame the police for the incidents.
Around 10,000 protesters gathered again last night after Friday's protest with some staying in a city centre church before today's rally.
Interior minister Vitaly Zakharchenko warned protesters that police would respond if there were mass disturbances.
"Mass disorder? The police cannot fail to react to this. Do we want to go the way of Libya, Tunis? If there are calls [from the opposition] for mass disorder, then we will react," he told Interfax news agency.
Police earlier had promised there would be no repeat of the violence which has increased tension.
Opposition leaders have called for a general strike and want the government to fall.
They have urged crowds to attend today's protest to help remove Mr Yanukovich - who was elected in 2010 - from power.
Opposition leaders have said violence near the presidential headquarters was nothing to do with them and had been stage-managed by the authorities with a view to justifying a police crackdown.

"We know that the president wants to ... declare a state of emergency in the country," former economy minister Arseny Yatsenyuk told journalists, reacting to clashes involving protesters who appeared to be trying to break through police lines using a building excavator.