Scottish police have said the operation to recover bodies from the Glasgow helicopter crash is a highly complex and dangerous task likely to take some time.
At least eight people were killed when a police helicopter crashed into a busy pub on Friday night.
Another 14 people are in hospital with serious injuries following the crash at the Clutha Vaults bar beside the River Clyde in the city centre.
Police confirmed that the body of Gary Arthur, 48, from nearby Paisley, has been recovered.
His 18-year-old daughter, Chloe, is a Celtic and Scottish international women's footballer.
Tributes have been pouring in from the club and the footballing world to his family.
A second body has been recovered from the scene and has been taken to the Southern General Hospital for a formal identification.
Special prayers were said and candles lit for the victims at a service at Glasgow Cathedral today as the community tries to come to terms with what has happened.
Witnesses said the helicopter came down "like a stone" on top of the bar with over 100 people inside.
Two police officers and the civilian pilot aboard the Eurocopter EC135 T2 are among the dead.
Police Scotland have named the three people on board the service helicopter who died when it crashed into a Glasgow pub as police officer Tony Collins, police officer Kirsty Nelis, and pilot David Traill,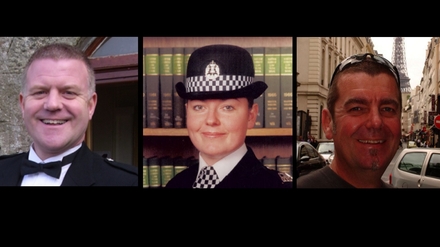 Mr Collins was 43-years-old, Ms Nelis was 36 and Mr Traill was aged 51, Scotland police said.
A major air accident investigation is under way.
Chief Constable of Police Scotland Sir Stephen House said the rescue operation will go on for many days yet.
He said: "This is a complex and ongoing rescue operation. It will not be a quick operation.
"It's a very complicated and indeed dangerous scene. I pay tribute to those people from the emergency services who are working in and around the scene."
Scotland's top policeman said it is not known how many people are still in the building.
He said the helicopter is in the wreckage and is dominating the space within the building.
It is not possible to fully assess the situation until the helicopter is out of the way, he added.
Nine-piece Glasgow ska band Esperanza were on stage when the helicopter hit the roof.
Writing on their Facebook page, the band said they were "waking up and realising that it is all definitely horribly real".
Helicopter operator Bond Air Services said it was "deeply saddened" by the incident and is working with Police Scotland, other emergency services. and the Air Accident Investigation Branch as the investigations into what caused the crash get under way.