Two people have been killed in an accident at a Sao Paulo stadium that is due to host the opening ceremony of the 2014 World Cup in Brazil.
Part of the grandstand was destroyed when a metal structure buckled at the top of the Itaquerao Stadium in Sao Paulo.
The accident was caused by a crane collapse and the two fatalities were both construction workers.
Corinthians, the club that will move into the stadium, issued a joint statement with the constructors confirming the deaths.
The statement said: "Odebrecht Infrastructure and Sport Club Corinthians Paulista regret to inform you that in early afternoon an accident during work at Arena Corinthians caused the death of two workers - Fabio Luiz Pereira, 42, driver/operator of the company BHM Munck, and Ronaldo Oliveira dos Santos, 44, builder from the company Conecta.
"Shortly before 1300, the crane that hoisted the last part of the structure of the metal roof of the stadium collapsed."
The arena was due to be completed at the end of December to meet a FIFA deadline. Brazil has admitted it is struggling to have all 12 World Cup venues ready.
Hosts Brazil are due to play in the opening match at the stadium on 12 June, 2014, against opponents to be determined at next month's draw.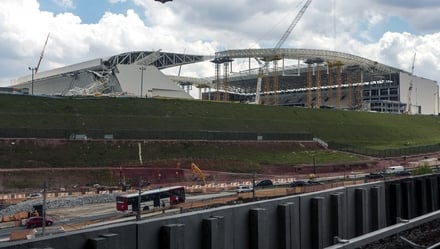 The stadium is also due to stage five further matches, including a semi-final.
Writing on Twitter, FIFA president Sepp Blatter said he was "deeply saddened" by the deaths. "Our heartfelt condolences are with the families."
FIFA general secretary Jerome Valcke added: "Extremely shocked by the news from Sao Paulo. Our thoughts are with the families of the victims of this accident.
"We are currently awaiting further details from the authorities, who are investigating this tragic accident."