Ukrainian Prime Minister Mykola Azarov has said a deal with Russia on possible new financial credits after suspending preparations for a European Union trade pact has not been finalised.
He also said Ukraine did not want to be a "battlefield" between the EU and Russia.
Ukrainian police last night fired tear gas at pro-Europe demonstrators angry over the government's rejection of the trade pact.
Authorities also sought to isolate jailed opposition leader Yulia Tymoshenko as she began a hunger strike over the move.
European Union leaders have issued an unusually strong criticism of Russia.
They stressed that the offer to Ukraine remained on the table despite little indication it would sign the pact with the EU at a summit on Friday as originally planned.
A spokesman for President Vladimir Putin said it was "inappropriate" to speak of Russia applying pressure over the issue.
He said Mr Putin had repeatedly stated Russia's position that it would welcome any decision by Ukraine.
Russia wants to bring Ukraine into a Customs Union with other former Soviet republics.
Police clashed with protesters who gathered for a second day in Kiev and speakers urged people to stay on the streets.
However, numbers were smaller than on Sunday, the largest turnout since a pro-democracy "Orange Revolution" nine years ago.
Ukrainian President Viktor Yanukovych, acting to defuse pressure from the streets, said rejecting the pact had been difficult but unavoidable, implying EU rules were too tough on the fragile economy.
He pledged to create "a society of European standards".
"My policies on this path always have been, and will continue to be, consistent," he said in a television address that did not mention relations with Russia or refer to EU pressure to release Tymoshenko, his fiercest opponent.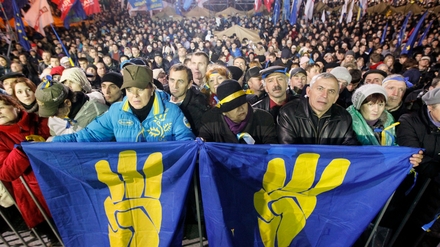 Within minutes of his address, a second round of clashes broke out near Kiev's European Square in which special force units used batons and tear gas for several minutes against a small group of protesters away from the main body of the rally.
The proposed far-reaching trade and political association agreement with Ukraine was the biggest target in the EU's efforts to draw states in the former communist east closer to the EU fold.
But Ukraine suddenly announced last week it had decided instead to seek closer trade relations with Russia.
The decision followed months of Russian pressure, including threats to cut off Ukraine's gas supplies and impose trade restrictions.
Russia has accused the European Union of putting pressure on Ukraine too.
The EU's two most senior officials, European Council President Herman Van Rompuy and European Commission President José Manuel Barroso, denounced Russia's actions and said the EU offer remained open.
"The European Union will not force Ukraine, or any other partner, to choose between the European Union or any other regional entity," they said in a joint statement.
"We therefore strongly disapprove of the Russian position and actions in this respect."
Former Ukrainian economy minister Arseny Yatsenyuk, one of the opposition leaders, denounced Mr Yanukovych's address as an attempt "to justify his absurd policy".
Tymoshenko's lawyer told the crowd she would stop eating to persuade the president to change his mind.
"As a sign of unity with you, I declare an unlimited hunger strike with the demand to Yanukovych to sign the association agreement," 52-year-old Tymoshenko said in a message to the protesters read out by her defence lawyer, Serhiy Vlasenko.
The Ukrainian prison service said it was stopping all visits to patients in the hospital in the town of Kharkiv where Tymoshenko is being treated, citing a health risk because of an outbreak of respiratory infection in the town.
Public health regulations meant that mass meetings would be suspended too, it said, something that might rule out any protest demonstrations on behalf of Tymoshenko.
Her 32-year-old daughter Yevgenia said that when she went to visit her mother yesterday she was refused entry.  
"This is the deliberate, unlawful isolation of my mother," she was quoted by the website of her mother's party as saying.
"To take away from a daughter her visit to her mother is humiliating and immoral," she said.