The United States has expressed concern over rising political tensions in Thailand, and urged the government and protesters to resolve differences through peaceful dialogue.
Thousands of protesters have occupied government buildings and called for the overthrow of Prime Minister Yingluck Shinawatra.
"We urge all sides to refrain from violence, exercise restraint, and respect the rule of law," State Department spokeswoman Jen Psaki said in a statement.
"Violence and the seizure of public or private property are not acceptable means of resolving political differences," she added.
Anti-government protesters forced their way inside Thailand's Finance Ministry and burst through the gates of the Foreign Ministry compound, in an escalating bid to overthrow the prime minister.
The seizing of government buildings by protesters, led by the opposition Democrat Party, plunges Thailand into its deepest political uncertainty since it was convulsed three years ago by the bloodiest political unrest in a generation.
The protesters' actions "threaten the stability of the government," Ms Yingluck said in a brief televised address.
The protesters accuse Ms Yingluck of being a puppet for her brother, former Prime Minister Thaksin Shinawatra, who was ousted in a 2006 military coup. Mr Thaksin lives in self-imposed exile but exerts enormous influence over his sister's government.
About 1,000 protesters swarmed the Finance Ministry, filling its cavernous marble-floored halls and occupying six other buildings.
Many gathered in first-floor meeting rooms, blowing whistles and laying out plastic mats for resting and eating. Occupying its grounds is symbolic, they said, of targeting the money at the heart of the "Thaksin regime".
Staff left, moving into a parking lot before leaving.
"I invite protesters to stay here overnight at the Finance Ministry," protest leader Suthep Thaugsuban told the crowd.
"Our only objective is to rid the country of the Thaksin regime," added Mr Suthep, a former deputy prime minister under the previous Democrat-led government.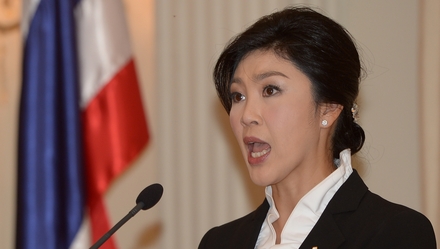 Ms Yingluck, 46, was defiant, saying she would not step down.
Her broad support in Thailand's vote-rich north and northeast - rural regions that are among the country's poorest - helped her win a 2011 election by a landslide, making her Thailand's first female prime minister.
That election was seen as a defeat for the traditional Bangkok elite of generals, royal advisers, middle-class bureaucrats and business leaders - a group that backs the Democrats and deeply mistrusts Mr Thaksin and his sister.
After two years of relative calm, tension between those factions is rising quickly, reviving memories of a tumultuous 2008 when anti-Thaksin "yellow shirt" protesters shut Bangkok's airports and held crippling rallies against two Thaksin-backed governments, which were eventually disbanded by a court.
Although Mr Thaksin or his allies have won every election in the past decade, the judiciary often undercuts him, illustrating how the billionaire former telecommunications tycoon and populist hero remains one of the most polarising figures in modern Thai history.
Since the 2006 coup, court rulings have removed two prime ministers, disbanded four parties, jailed three election commissioners and banned 220 politicians.
The military will be watched closely. A major force in politics since Thailand became a democracy in 1932, the military has staged 18 coups - some successful, some not - and made several discreet interventions in forming coalition governments, almost all with the tacit backing of the royalist establishment that now reviles Mr Thaksin.
Ms Yingluck said an Internal Security Act would be extended in Bangkok and some surrounding areas including in Samut Prakarn province, in which Bangkok's main airport is located. But she said the government would not use force on protesters occupying government buildings.
The act allows troops to impose curfews, operate checkpoints and restrict movements of protesters.