Rescue workers have found more bodies in the ruins of a collapsed supermarket in the Latvian capital Riga, bringing the death toll to 51.
Cranes lifted large slabs from the wreckage of the Maxima store to try to find those trapped after the roof collapsed yesterday when it was full of shoppers on their way home from work.
Rescue workers cleared away rubble from the store, which had occupied around 1,500sq/m.
Police said the death toll had reached 47, including three rescue workers. Another 38 people were injured.
"In the past hours no survivors have been found," said Viktorija Sembele, a rescue service spokeswoman.
Latvian public television said as many as 40 people could still be trapped in the rubble
It said this claim was based on information from security cameras, but Ms Sembele could not confirm the figure.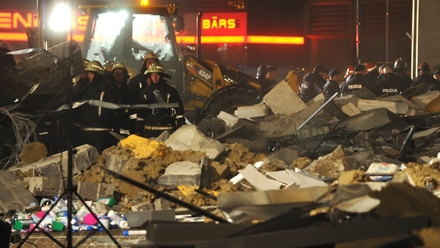 The cause of the collapse remains unknown, but Interior Minister Rihards Kozlovskis said: "It is clear that there has been a problem with fulfilment of construction requirements."
Local media said workers had been building a roof garden on the supermarket, which was a single-storey building located about a 30-minute drive from the city centre.
Soil, grass and parts of a new walkway could be seen dangling from the edges of the collapsed rooftop.
Prime Minister Valdis Dombrovskis announced three days of mourning from tomorrow.
"In our thoughts we are together with all those stricken by this tragedy," Mr Dombrovskis said.
"No matter what the cause of the tragedy is, the number of victims is too big."