Authorities in the United States have destroyed tonnes of seized ivory from thousands of elephants slaughtered by poachers for their prized tusks.
It highlighted a pledge to crack down on the multi-billion-dollar illicit global trade in wildlife.
Joined by representatives of several federal agencies and conservation groups, the director of US Fish and Wildlife Service Dan Ashe presided over the mechanised ivory crushing at a special storehouse in Colorado in the first event of its kind in the US.
The Philippines, Kenya and Gabon have previously destroyed their stockpiles of contraband ivory.
Mr Ashe said the crushing of ivory to make it commercially worthless would send a message to poachers worldwide that the US is serious about taking actions to curtail the illegal trade.
"We need to end the demand for ivory," he said, adding that a growing affluent class in Asia, primarily in China, was behind a spike in demand for ivory and its products in recent years.
President Barack Obama issued an executive order in July, calling on federal officials to step up their crackdown against illegal wildlife trafficking.
US Secretary of State John Kerry on Wednesday announced a reward of up to $1m (€744,000) for information that leads to the dismantling of the so-called Xaysavang Network.
The Xaysavang Network is a Laos-based criminal organisation that has been linked to wildlife smuggling.
Most of the illegal ivory comes from poaching of the African elephant, and a lesser amount from its smaller Asian cousin.
The seized ivory crushed yesterday represents more than 25 years of confiscated tusks and ivory-derived products seized by US authorities from smugglers and even unwitting tourists.
The items had been stored at a central facility inside the Rocky Mountain Arsenal National Wildlife Refuge outside Denver.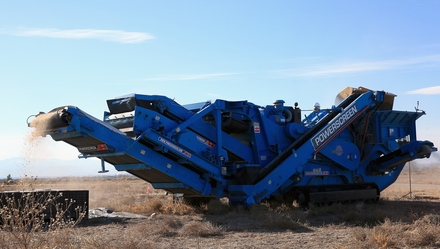 The ivory was turned to dust in an industrial rock crusher used in highway construction that was parked at the refuge for the symbolic event.
It is estimated that there are about 300,000 elephants in the wild, with some 30,000 elephants killed each year to fuel the illegal ivory trade.
Some of the ivory items displayed before they were crushed included engraved tusks, artwork, walking sticks, jewellery and other trinkets, including figurines of elephants.
Steven Feldman, spokesman for the Maryland-based Association of Zoos and Aquariums, said shards or dust from the crushed ivory will be sent to its member facilities to expand awareness about the plight of the pachyderms.
"We reach 180 million people each year, and our goal is to educate those visitors that any ivory product represents a dead elephant," Mr Feldman said.
As the economic muscle of China grows, it is imperative that people there are made aware of the plight of elephants, said Grace Ge Gabriel, Asian director for the International Fund for Animal Welfare.
"Five years ago, we surveyed people in China, and 70% of those surveyed did not know that ivory came from elephants," she said.
"We need clear laws and vigorous enforcement to stigmatise the possession of ivory."