Australian firefighters have battled back massive wildfires in bushland around Sydney, but hot weather that could have caused a catastrophic mega-fire did not materialise.
It has allowed authorities to tell some evacuated residents it was safe to return to home.
However, the crisis is far from over with new fires igniting and strong winds fanning blazes in the Blue Mountains, a major commuter area of small towns west of Sydney.
Around 60 fires were still burning across New South Wales (NSW) state, with more than 2,000 firefighters struggling to contain them, with more hot and windy weather forecast.
As exhausted firefighters moved from fire to fire, residents used garden hoses to try to save their homes.
More than 200 homes have been destroyed in NSW since last Thursday, when fires tore through Sydney's outskirts, razing entire streets.
One man died from a heart attack while trying to save his home.
Earlier, residents in the Blue Mountains were urged to drive down to the safety of metropolitan Sydney, but by the evening some were returning home.
"If you have been someone that has chosen to depart the Blue Mountains today ... (to) be out of harm's way, then it would be safe to head back home tonight because the risk has been averted," said Rural Fire Service (RFS) Commissioner Shane Fitzsimmons.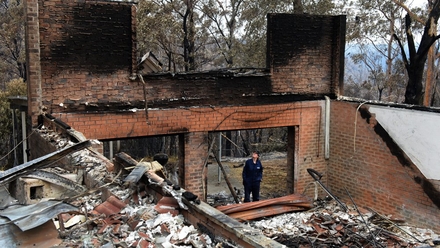 Mr Fitzsimmons warned the situation could deteriorate again and urged people to be vigilant.
"There are still fires flaring up, impacting on communities this afternoon," he said.
"I won't rest easy until I know things have settled right down over the next 24 hours or so and we start seeing some really good further consolidation of control lines and bringing these fires more under control.
"The fires have burned through more than 120,000 hectares (300,000 acres) and have a perimeter of some 1,600km."
Firefighters fear strong winds may see three major fires in the Blue Mountains join up in coming days, creating one massive wildfire.
Air pollution in parts of Sydney has spiked with some neighbourhoods blanketed in smoke.
The NSW government has declared a state of emergency enabling it to order evacuations, hoping to avoid a repeat of the 2009 "Black Saturday" fires in Victoria state that killed 173 people and caused $4.4bn worth of damage.
The insurance council of Australia said claims of more than AU$U93 million ($90 million) were expected to grow.
Police have arrested several children suspected of starting a number of different fires.
Other fires were sparked by power lines arcing in strong winds, according to the fire service.
The biggest fire was started during an army training exercise when an explosion ignited bushland.