Householders could be recycling twice as much of their rubbish according to Greyhound.
Ireland's largest waste company published a league table of recycling rates in Dublin.
The table shows that people living on the city's northside are better at recycling than those living on the southside.
Greyhound took over Dublin city waste collection when it was controversially privatised at the start of last year.
The company hopes to publish regular league tables to encourage more recycling.
Greyhound chief executive Michael Buckley said it was "extremely interesting to see the differences in the recycling rates right across Dublin with Dollymount and Ballybough out-performing Donnybrook and Ballsbridge."
Northside areas came top for both green and brown bin recycling while Dublin 4 had the lowest rate of green bin use of nine postcodes surveyed.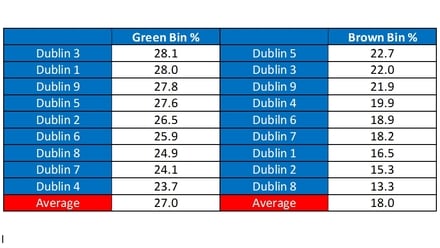 But Fianna Fáil Councillor Mary Fitzpatrick criticised the company's pricing structure for brown bins which charges for extra weight.
She said more people would recycle if they were given a better financial incentive