The leader of the Republicans in the US House of Representatives has accused President Barack Obama of refusing to negotiate until Republicans surrender.
John Boehner was speaking after Mr Obama had accused Republicans of using threats and extortion.
The President also urged Congress to raise the debt ceiling, warning that failure to do so would risk returning the country to recession.
Mr Boehner said he agreed with the President that the US should pay its bills, but he said first there would have to be negotiations on how to curb government spending.
Mr Obama has refused to give ground in the fiscal confrontation, saying he would negotiate on budget issues only if they agree to re-open the federal government and raise the debt limit with no conditions.
At a news conference, he said he would not hold talks on ways to end the fiscal impasse while under threat from conservative Republicans, but agreed to discuss anything, including his healthcare plan.
"If reasonable Republicans want to talk about these things again, I'm ready to head up to the Hill and try," Mr Obama told reporters.
"But I'm not gonna do it until the more extreme parts of the Republican Party stop forcing (House Speaker) John Boehner to issue threats about our economy. We can't make extortion routine as part of our democracy."
President Obama's comments followed an earlier phone call to Mr Boehner, who had adopted a slightly more conciliatory tone in comments to reporters after a meeting with House of Representatives' Republicans.
Mr Boehner said there were "no boundaries" in potential talks, and made no mention of recent Republican demands to delay parts of President Obama's healthcare law in return for approving funds to end the government shutdown.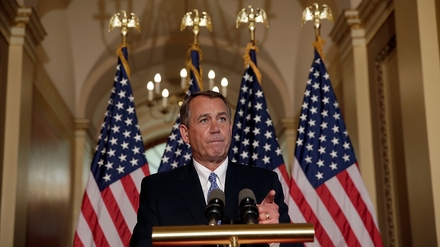 But speaking to reporters after Mr Obama's news conference, Mr Boehner said he was "disappointed" by the president's approach.
"What the president said today was 'if there is unconditional surrender by Republicans, he'll sit down and talk to us'. That's not the way our government works," Mr Boehner said.
The public give-and-take was the most direct exchange between the two leaders since a White House meeting last week, but neither side has come up with a path to resolving the bitter fiscal stalemate.
The spending and budget impasse has shut down the federal government for eight days and threatens to prevent the raising of America's borrowing limit before a 17 October deadline identified by Treasury Secretary Jack Lew.
Investors are exhibiting increasing anxiety as the deadline for raising the debt ceiling approaches.
"Until you see some progress, things will likely get worse," said Eric Green, global head of rates, currency and commodity research and strategy at TD Securities in New York.
On Tuesday, House Republicans proposed the creation of a bipartisan committee to work on the issue, which was rejected by Democrats.
Senate Democrats also introduced a bill to raise the debt ceiling with no conditions through 2014, but included none of the deficit reductions that Republicans have demanded.