Northern Ireland's Deputy First Minister Martin McGuinness has said "his heart goes out" to protesters at a peace lecture he gave in a town bombed by the IRA.
Mr McGuinness was invited to speak in Warrington by Colin Parry, who lost his 12-year-old son in the bombing of the town in 1993.
Mr Parry, who has since set up a peace foundation said while he has not forgiven the IRA for the bombing, history was "littered" with terrorists who had now become peacemakers.
A small band of around 12 demonstrators stood outside the venue protesting at Mr McGuinness' speech at the Tim Parry - Johnathan Ball Foundation for Peace.
In his address Mr McGuinness spoke about Northern Ireland's journey to peace and his hopes for the future.
"I have followed many coffins and stood beside many grieving families in the years since.
"But there can be no greater tragedy in life than parents having to bury their child," he said.
He described the aftermath of the Warrington bomb as "heart-rendering."
"As a republican leader it would be hypocritical for me to seek to distance myself from the consequences of armed struggle or the IRA's role in it.
"Regrettably the past cannot be changed or undone," he said.
Mr McGuinness said the challenge is to ensure that there can never be a repeat of what went before.
"Compromise is not a dirty word," he said.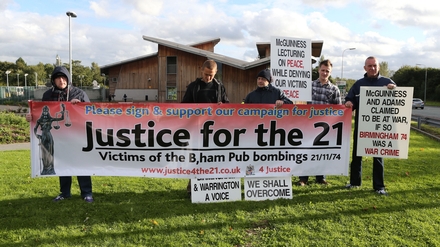 Julie Hambleton, whose sister Maxine, 18, was killed in the Birmingham pub bombings, compared Mr McGuinness' giving a talk on peace to "asking Myra Hindley to give a talk on child protection."
Mr McGuinness said he "understood" the objections and described the path to peace as a "journey."
"My heart goes out to them because they too are people that have suffered as a result of the conflict in the north of Ireland," he said.
"I fully appreciate that there are other people who don't feel able to make that journey. I would be the last to criticise them.
"My heart goes out to all the victims of the conflict."
Asked specifically about the Warrington bombing, he added: "It's absolutely shameful that two young boys lost their lives."
Colin Parry said the peace foundation had an "open door" policy and that its founding principle was that all opinions from opposing sides of conflicts were welcome in the pursuit of peace.
"I would hope that the people outside, rather than criticise us for that, would recognise that's a different path but an honourable path," he said.
Tim Parry and Johnathan Ball, aged three, were killed when bombs planted in litter bins in the town's main shopping area were detonated.
No warning was given and no one has been prosecuted for the atrocity attack which left 56 people injured.
The death of the two boys sparked a public outcry in the UK and on both sides of the border in Ireland.
Mr Parry and Tim's mother, Wendy Parry, have set up the Tim Parry Johnathan Ball Foundation for Peace, which has since become an internationally recognised centre for conflict resolution and victim support.