Two powerful storms have hit Mexico killing at least 42 people and stranding some 40,000 tourists in the Pacific resort of Acapulco amid some of the worst flooding in decades.
Tropical Depression Ingrid battered Mexico's northern Gulf coast, shutting some of the country's oil operations, while the remnants of Tropical Storm Manuel lashed the Pacific coast.
Even as Ingrid and Manuel weakened, the storms continued to unleash heavy rain in the states of Veracruz, Guerrero, Puebla, Hidalgo, Michoacan and Oaxaca.
Landslides buried homes and a bus in the eastern state of Veracruz.
Thousands were evacuated from flooded areas, some by helicopter, and taken to shelters.
Residents waded neck-deep in brown muddy waters, while some moved down flooded streets in dinghies, pedal boats and on jet skis.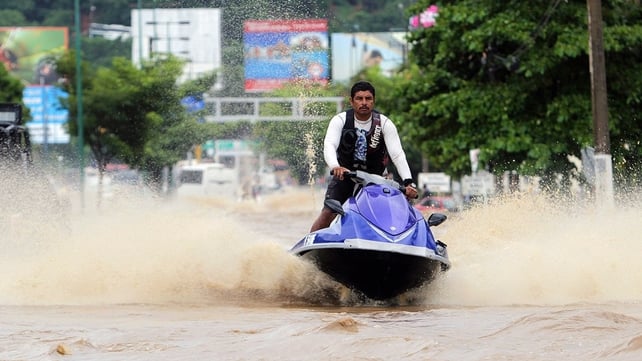 Waters churned through streets, converting them into dangerous rapids that swept away cars.
State oil monopoly Pemex said it had evacuated three oil platforms and halted drilling at some wells on land due to the storms.
Acapulco Mayor Luis Walton told reporters that 40,000 tourists were stranded in the city.
The popular Princess Hotel's car parks and golf course were under water, as was much of the city's Diamante district, which is home to top-end hotels.
President Enrique Pena Nieto inspected the storm damage in Acapulco and other flooded parts of Guerrero state by air yesterday evening.
Interior Minister Miguel Osorio Chong called the flooding "historic" and said the city of Acapulco had sustained major damage.
The resort's international airport was closed due to power failure and two major highways were blocked in the wake of Manuel.
"The storms have affected two-thirds of the entire national territory," Mr Chong said.
In Veracruz state, along Mexico's Gulf coast, 12 people died yesterday after a bus and two nearby homes were buried by a mountain landslide near the town of Xaltepec, Governor Javier Duarte told reporters.
Public school classes in Veracruz and Tamaulipas states were cancelled for today.
Ingrid maintained maximum winds of 55km/h and was expected to further weaken as it moved overland.
The tropical depression continued to dump heavy rains as it churned 9km/h towards the west.
The National Hurricane Center said isolated areas could see as much as 63cm of rain, particularly in mountainous terrain, resulting in additional life-threatening flash floods and mudslides.
The Mexican government had discontinued all coastal warnings and watches by yesterday afternoon.
Manuel's maximum sustained winds stood at 45km/h as it dissipated over central Mexico, although heavy rainfall is expected to continue along the country's southwest coast.