United Nations inspectors have confirmed they found "clear and convincing evidence" that poison sarin gas was used in an attack near the Syrian capital of Damascus on 21 August.
The UN team's mandate was solely to determine whether chemical weapons were used, not who used them.
However, a reference to surface-to-surface rockets may point to government use rather than its lesser-armed opposition.
The mission concluded that it had "collected clear and convincing evidence that surface-to-surface rockets containing the nerve agent sarin were used in the Ein Tarma, Moadamiyah and Zalmalka in the Ghouta area of Damascus."
In remarks to the Security Council, Secretary-General Ban Ki-moon said: "The results are overwhelming and indisputable. The facts speak for themselves."
The United States has previously said that President Bashar al-Assad's troops fired chemical weapons in the attack, killing more than 1,400 people.
During a visit to a site at Moadamiyah where a number of people were said to have died in a chemical attack, UN inspectors recovered munitions fragments marked with numbers and engraving, although no debris was recovered intact.
The report said the site had been well travelled by other individuals prior to the arrival of inspectors, and that fragments and other possible evidence had clearly been handled or moved.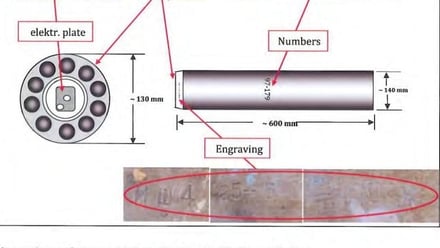 The French government said Mr Assad's regime has two models of artillery rockets with a range of about 50km that are aimed at delivering gases including sarin, according to a declassified intelligence report released on 3 September.
The Syrian opposition has "neither the experience, nor the know-how" to use chemical weapons "particularly through vectors as those that were used during the August 21 attack", the French intelligence concluded.
Britain and the US joined France in declaring that details contained in a report by UN investigators confirms that Syria's government, not the opposition, was behind the attacks.
British Ambassador Mark Lyall Grant told reporters there was "no remaining doubt that it was the regime" that was responsible for the attack that left hundreds dead.
US Ambassador Samantha Power echoed his remarks.
Plan agreed over Syrian chemical weapons
The UN report comes two days after the US and Russia agreed on a plan in Geneva calling on Syria to turn over its chemical weapons to international control for safekeeping and eventual destruction.
US Secretary of State John Kerry secured French and British support today in pursuing a UN Security Council resolution implementing the chemical weapons plan, with the ultimate goal of forcing Mr Assad out of power.
Mr Kerry, British Foreign Secretary William Hague and French Foreign Minister Laurent Fabius, who met in Paris today, insisted the Security Council keep alive the threat of an armed response in case Syria backslides on the chemical-disarmament accord.
Russian Foreign Secretary Sergei Lavrov told reporters in Moscow today that any punitive measures for non-compliance by Syria must be authorised through a second Security Council resolution.
Mr Assad's regime has denied using chemical weapons, and Russian President Vladimir Putin continued to blame the 21 August attack on opposition groups in an opinion column last week in the New York Times.
"No one doubts that poison gas was used in Syria," Mr Putin wrote.
"But there is every reason to believe it was used not by the Syrian army, but by opposition forces, to provoke intervention by their powerful foreign patrons, who would be siding with the fundamentalists."
The UN Commission of Inquiry on Syria is investigating 14 alleged attacks with chemical weapons or chemical agents since it began monitoring human rights abuses in the country in September 2011.
Turkey shoots down Syria plane
Turkish warplanes shot down a Syrian helicopter after it violated Turkish airspace and are continuing to patrol the border, Turkey's Deputy Prime Minister Bulent Arinc said.
"Today at 2.20pm an Mi-17 helicopter belonging to Syria violated the Turkish border in the Guvecci area of Yayladagi in Hatay province by 2km," Arinc told reporters in Ankara after a regular cabinet meeting.
"It was repeatedly warned by our air defence elements. When the violation continued, our planes ... hit the helicopter at 2.25pm with a missile causing it to fall on Syrian soil."
Turkey, one of Mr Assad's fiercest critics, has advocated military intervention in Syria and grown frustrated over what it sees as Western indecisiveness.
Turkey, which shares a 900km border with Syria, is sheltering a quarter of the two million people who have fled the Syrian conflict.