Firefighters in Australia are continuing to battle a bushfire at Winmalee, west of Sydney after strong winds and hot, dry temperatures fuelled fires in the area.
At least eight firefighters have been injured tackling a series of bushfires that started burning out of control on Tuesday.
New South Wales Premier, Barry O'Farrel has warned residents to prepare their homes for the possibility of more fires during the summer months.
"My message to families in areas that are bushfire-prone is to start to take your precautions now for summer. Don't leave it another month or two months.
"Clean out your gutters, prepare your plans, so that we can battle what is clearly going to be a difficult bushfire season," he said.
More than 150 firefighters were brought in from around the state to fight the fires, along with scores of fire engines and specialist aircraft, the Rural Fire Service (RFS) said.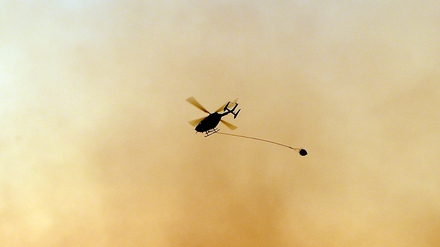 "This fire here in Winmalee, fire crews are busy doing backburning operations and mop up operations to work to bring this fire under control. We expect that they'll be busy 24 hours a day for many days yet before they can safely say this fire is contained," said RFS Commissioner Shane Fitzsimmons.
Local media reported that the fire tore through more than 500 hectares and 200 homes remain without power in the area.