Roscus Misch, the last surviving witness of Adolf Hitler's final days in a bunker in Berlin, has died in his home at the age of 96.
Mr Misch, who said there was a strange silence in the bunker as the battle for Berlin raged above in April 1945, had been suffering from the effects of a recent heart attack.
His agent Michael Stehle said: "His family was with him when he died."
Mr Misch, who always referred to the Nazi dictator as "the Boss", died in the house in south Berlin where he had lived since 1938.
In a 2007 interview, Mr Misch - who worked as Hitler's bodyguard, phone operator and courier for five years - said: "Life in the bunker was pretty normal. Hitler was mostly very calm."
He said historians, filmmakers and journalists always got it wrong when they described the mood in the bunker as Soviet forces closed in on Hitler in the final days of the Nazi regime.
"It was much less dramatic than shown by many historians, filmmakers and journalists," the former soldier said.
"The worst thing was the silence ... Everybody was whispering and nobody knew why. That's why it felt like the bunker of death."
Mr Misch remained neutral on Hitler up to his death.
"History is history, it was the way it was and nobody should lie about it," he said, refusing to make judgements about the past.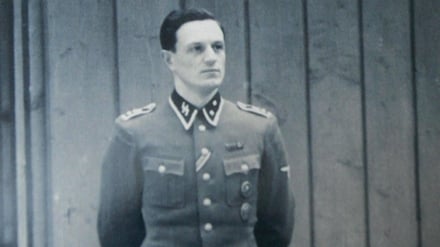 Mr Misch was not ashamed to talk about pleasant moments with Hitler just as was depicted in the internationally acclaimed 2004 German film "Downfall", which drew controversy for showing Hitler's rarely explored human, as well as brutal, side.
When asked about the happiest time in his life, Mr Misch pulled out pictures of Hitler and his close associates at the Nazi leader's summer Berghof residence in the Bavarian Alps.
"The best time I ever had was Berghof," Mr Misch said.
He pointed to a picture showing Hitler, surrounded by children and the Third Reich's architect, Albert Speer.
"It was wonderful, like a holiday. The boss was very relaxed when he was there."
Mr Misch was the last survivor of the final days of the bunker. Another, Bernd von Freytag Loringhoven, died in 2007.
Mr Misch was a burly man with silver hair and appeared in a number of documentary films about Hitler and the bunker.
"No matter who wanted to see Hitler, no matter if it was (propaganda chief Joseph) Goebbels, (Luftwaffe chief Hermann) Goering or anyone else, they had to get past me," said Mr Misch.
"Regardless of who called, I picked up the phone."
The only soldier allowed to carry a weapon in the bunker, Mr Misch joined the SS in 1937 at the age of 20 and was wounded in 1939 in Poland.
He recovered and was reassigned to Hitler's chancellery.
He was captured after the war and spent nine years in Soviet prisons. Back home, he launched a house-painting business.
Mr Misch said he stayed in the bunker even after Hitler let others leave. He said it was his duty as a soldier. With the war clearly lost, Hitler killed himself on 30 April, 1945.
"I was prepared for it and was just waiting for the moment," Mr Misch said.
"When the door opened I saw Eva (Braun) lying with her legs bent so that her knees almost reached her chin. I will never forget that."
Later, Mr Misch saw Hitler's corpse covered by blankets and with only his shoes protruding.
"There was a complete silence," he said.
"I went to the commander and said: 'The Fuehrer is dead'. My colleague then said, 'Now the boss is to be burnt'."