Poet and Nobel laureate Seamus Heaney has been laid to rest in his native Bellaghy in Co Derry after a funeral Mass in Dublin attended by hundreds of mourners.
The world-renowned 74-year-old writer died unexpectedly in a Dublin hospital on Friday after a short illness.
He was buried beside his brother Christopher, who was killed aged just four in a road crash.
Christopher's death, while Seamus was a boarder at St Columb's College in Derry, would later form the basis for one of his poems, Mid-Term Break.
Mourners at the poet's funeral Mass at the Sacred Heart Church in Donnybrook were led by Mr Heaney's widow Marie and children Michael, Christopher and Catherine Ann.
President Michael D Higgins, Taoiseach Enda Kenny, playwright Brian Friel and the four members of rock group U2 were in attendance.
Sinn Féin leader Gerry Adams and Northern Ireland Deputy First Minister Martin McGuinness were also present, as was former president Mary McAleese and her husband, Dr Martin McAleese.
Mr Heaney's lifelong friend and poetry contemporary Michael Longley also attended.
The chief celebrant of the Mass, Monsignor Brendan Devlin, opened the service with the remark that Mr Heaney might have liked to have his funeral celebrated by someone with a Northern accent.
He summed up why the poet was held in such high regard by people from all walks of life.
"He could speak to the King of Sweden, an Oxford don or a south Derry neighbour with the directness of a common and shared humanity," he said.
Monsignor Devlin described him as a brilliant literary critic and articulator of years of pain in Northern Ireland.
The Mass ended with a reading of one of Mr Heaney's poems, The Given Note, from his second published collection.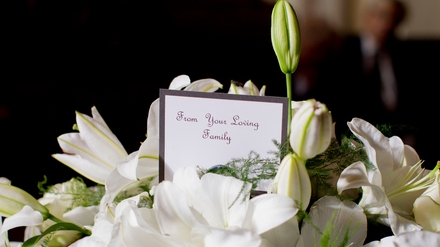 Paul Muldoon, a teacher, poet and friend of Mr Heaney, gave the eulogy following the service.
"We remember the beauty of Seamus Heaney as a bard and today in particular in his being," he said.
Michael Heaney, one of the poet's sons, spoke briefly to thank those who cared for his father and those who have offered support and praise since his death.
He revealed that his father had sent a text message to his mother, Marie, last Friday.
"His last few words in a text message minutes before he passed away in his favourite Latin were 'noli timere' ('don't be afraid')," he said.
Over the weekend, tributes continued to pour in from across the world to Mr Heaney, who has been hailed as the greatest poet Ireland has produced since William Butler Yeats.
Writer Colm Tóibín said Mr Heaney was not merely a central figure in the literary life of Ireland, but in its emotional life, in its dream life and in its real life.
Books of condolence are open at the Mansion House in Dublin, the Guildhall in Derry, and Queen's University and City Hall in Belfast.