Thousands of supporters of ousted Islamist president Mohammed Mursi have marched through Cairo and cities across Egypt.
The rallies were the biggest show of defiance since hundreds of protesters were killed two weeks ago.
Although most marches passed without major incident, a security source said there had been at least six deaths.
Police also fired teargas at protesters in Cairo's Mohandiseen district.
A ministry official in Port Said, on the Suez Canal, said one protester had been killed and 21 injured there in clashes between Mursi supporters and opponents.
The army-backed government has arrested most of the leaders of the Brotherhood since Mr Mursi was toppled by the military on 3 July, suffocating protests and all but silencing the movement that ruled Egypt for a year.
Demonstrators appeared to have chosen to hold numerous scattered protests and to avoid Cairo's bigger squares, where police and tanks were deployed in force.
Just after Friday prayers, around 500 protesters set off from central Cairo's Sahib Rumi mosque.
By mid-afternoon, thousands were marching in several Cairo districts and suburbs calling for the return of the elected government.
Soldiers were joined by police armed with tear gas guns and semi-automatic rifles, at checkpoints near the protests. They blocked access to one of the bridges over the Nile.
In Egypt's second city, Alexandria, around 10,000 protesters took part in several separate demonstrations.
Marches were also held in several cities in the Nile Delta, including Tanta and Fayoum, the three Suez Canal cities of Suez, Ismailia and Port Said, and in the southern city of Assiut.
The Brotherhood, which won five popular votes after the overthrow of the military-backed president Hosni Mubarak in 2011, and gave Egypt its first civilian president in Mr Mursi, says it is still committed to peaceful resistance.
Egypt to clamp down on Al Jazeera channel
The government is to clamp down on Al Jazeera's Egyptian television channel, state news agency MENA has said.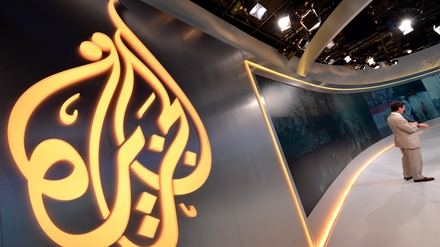 The channel has been accused of threatening national security.
This week it aired statements from two leaders of the Muslim Brotherhood, including a call for today's protests across the country.
The ministers of investment, communications and information said in a statement that the channel, Al Jazeera Mubashir Misr, was operating without a licence, according to MENA.
The three ministers said unspecified legal measures would be taken against the Qatari-owned channel "given the threat it poses to national security".
The channel began broadcasting after the 2011 uprising that ousted former president Hosni Mubarak.
It has been accused by critics of being sympathetic to Mr Mursi's Brotherhood, which Qatar supports.
Its offices in Cairo have been closed since 3 July, when they were raided by security forces, although it has continued to broadcast from Qatar.
Ayman Gaballah, the head of the channel, said the accusations were fabricated.
"We are not facing a legal problem but rather an issue of freedom of expression," he said.
He added that their licence clearly states the channel can operate in Egypt.
One of the Brotherhood leaders who appeared on the channel, Mohamed El-Beltagi, was arrested yesterday.
The other, Essam El-Erian, is still free.
The two had earlier this week called on the Egyptian people to protest today to bring down the "bloody military coup".
In addition to pursuing the Brotherhood's leaders, accusing them of inciting violence, Egypt's new rulers have tried to prevent the movement communicating with supporters by shutting down television stations sympathetic to it.