Britain believes the UN Security Council should see findings from chemical weapons inspectors before backing any military action in Syria.
According to a motion to be put before parliament tomorrow, any direct action by UK forces will require a further vote in the House of Commons once the UN has considered the report from the inspectors.
The motion reads that the UNSC should have the opportunity "immediately to consider that briefing and that every effort should be made to secure a Security Council Resolution backing military action before any such action is taken".
It will ask MPs to agree the principle that a "strong humanitarian response" is required from the international community.
This response "may, if necessary, require military action that is legal, proportionate and focused on saving lives by preventing and deterring further use of Syria's chemical weapons".
The opposition Labour party earlier said it would oppose the motion unless an amendment allowing the UN inspectors to report is passed.
British Foreign Secretary William Hague accepted that the government had made "an effort to accommodate the concerns and questions of other parties" in its motion.
He said the motion "reflects the deep concerns in this country about what happened in Iraq" and stressed the government's desire for a "consensual" approach.
"We are determined to take action against war crimes, against crimes against humanity and that is what the use of chemical weapons constitutes, but that we will also proceed as far as possible on a consensual basis," he said.
Britain's National Security Council this afternoon unanimously backed action against Syria in response to the suspected chemical weapons attack.
Prime Minister David Cameron said on his official Twitter feed that "the NSC agreed unanimously that the use of chemical weapons by Assad was unacceptable - and the world should not stand by".
Britain put a draft resolution to the UN Security Council today condemning attacks by President Bashar al-Assad and authorising "necessary measures" to protect civilians from chemical weapons.
"We've always said we want the UN Security Council to live up to its responsibilities on Syria. Today they have an opportunity to do that," Mr Cameron said.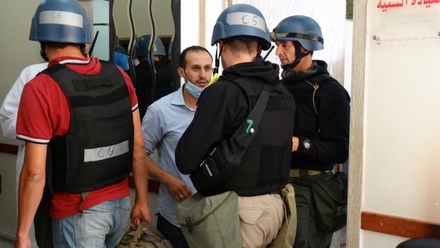 Obama blames Syrian government for attack
US President Barack Obama has said he has received options from the US military about a potential strike on Syria, but he has not made a decision.
In an interview with PBS, Mr Obama said he does not believe the Syrian opposition possessed chemical weapons and he has concluded that the Syrian government carried out the attacks.
He said the use of chemical weapons in Syria affects US national interests and he does not want a situation where they can be directed at the US.
The goal of a "limited, tailored" military strike would be to "send a shot across the bow" to deter future chemical weapons attacks, he said.
German Chancellor Angela Merkel said this evening that the use of poison gas in last week's attack was now sufficiently proven.
In a statement after a conversation with Mr Cameron, she said Syria's government should not to go unpunished.
Elsewhere, NATO Secretary-General Anders Fogh Rasmussen said information from a variety of sources pointed to Mr Assad's forces being responsible for the use of chemical weapons in Syria.
Speaking after a meeting of NATO ambassadors in Brussels, Mr Rasmussen said any use of such weapons was "unacceptable and cannot go unanswered", although he did not suggest any response.
"This is a clear breach of long-standing international norms and practice ... Those responsible must be held accountable," he said in a statement.
Mr Rasmussen said the military alliance would keep the situation in Syria under "close review".
Russia has said the UN Security Council should wait for inspectors to present their report on the alleged chemical weapons attack before considering a response.
Deputy Foreign Minister Vladimir Titov said: "It would be premature, at the least, to discuss any Security Council reaction until the UN inspectors working in Syria present their report."
Tánaiste Eamon Gilmore has called for the UN Security Council to refer the civil war in Syria to the International Criminal Court.
The Minister for Foreign Affairs said the use of chemical weapons against civilians is a "very serious war crime".
However, he said: "I reiterate that only a political solution can bring peace to Syria."
UN investigators on the ground investigating attack
UN chemical weapons investigators crossed Syria's front line into rebel-held territory this morning for a second day of investigating the alleged poison gas attack.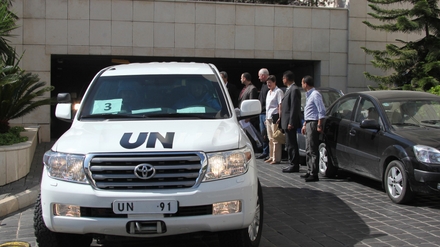 Opponents of Mr Assad say his forces used rockets loaded with poison gas in the middle of a fierce offensive.
Activists have put the death toll between 500 and more than 1,000.
Mr Assad denies the charges.
Yesterday, the team had to postpone its planned visit to the suburb because of safety concerns.
UN Secretary-General Ban Ki-moon said the inspectors need four days to conclude their investigation and time to analyse the findings.
"They are working very hard, under very, very dangerous circumstances," Mr Ban told a news conference in The Hague.
"Let them conclude their work for four days and then we will have to analyse scientifically with experts and then I think we will have to report to the Security Council for any actions."
'Terrorists' helped by Western powers - Syria
Syria's deputy foreign minister said the US, Britain and France helped "terrorists" use chemical weapons in Syria, and the same groups would soon use them against Europe.
Speaking to reporters outside the Four Seasons Hotel in Damascus, Faisal Maqdad said he had presented UN chemical weapons inspectors with evidence that "armed terrorist groups" had used sarin gas in all the sites of alleged attacks.
"We repeat that the terrorist groups are the ones that used (chemical weapons) with the help of the United States, the United Kingdom and France, and this has to stop," he said.
"This means these chemical weapons will soon be used by the same groups against the people of Europe."
Elsewhere, Syria's UN ambassador Bashar Ja'afari has asked Mr Ban to send the UN team to investigate three rebel attacks in which he said Syrian soldiers inhaled poisonous gas.
An al-Qaeda affiliate has threatened a "Volcano of Revenge" against Syrian government security and military targets in retaliation for the suspected poison attack near Damascus, the SITE Monitoring Group said.
A branch of the Islamic State in Iraq and the Levant (ISIL) said in a statement it would punish Syria for a series of massacres after meeting eight Syrian factions.
The US is expected to release its own intelligence report into last Wednesday's incident in the coming days.
Iranian supreme leader Ayatollah Khamenei has said US intervention in Syria would be a disaster.
"The intervention of America will be a disaster for the region. The region is like a gunpowder store and the future cannot be predicted," the ISNA state news agency quoted him as saying.
French President Francois Hollande has cited a 2005 UN provision for action to protect civilians from their own governments, which was inspired by the Rwandan genocide of 1994.
Footage of emotional reunion goes viral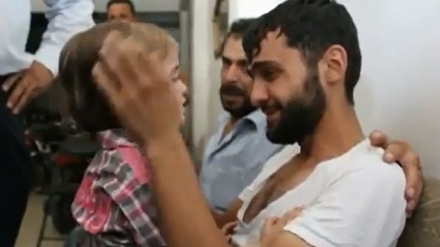 Meanwhile, footage has emerged of what purports to be a Syrian father being reunited with his son, whom he thought had died in last week's attack.
The video, discovered by Max Fisher of The Washington Post, has gone viral after being posted on YouTube by Syrian activists on Monday.
According to reports, the video was recorded in the southwestern town of Zamalka in Damascus.
It has not been possible to independently verify the content.
Concern over Golan Heights mission
A senior officer with the Irish Defence Forces has said there is a "degree of concern" over the deployment of 115 Irish troops on a UN mission to Syria, given the civil war in the country.
However, Commandant Denis Hanly said the mission the soldiers were deploying to in the Golan Heights was a mature mission, which was more closely connected to the fallout of the 1973 Yom Kippur war rather than the current internal conflict between rebels and the Assad regime.
Speaking on RTÉ's Morning Ireland, he said the objective of the mission was to make sure that low-level conflict in the demilitarised zone does not spill out.
He declined to comment on the fact that Austria previously withdrew its troops from the UN mission.
However, he said that Ireland had considerable experience in international deployments, which diminished any risks associated with the mission.
He said Irish soldiers were prepared for chemical warfare attacks as part of their standard training.
The deploying troops will consist of a mix of 40 soldiers on their first trip overseas, while the remainder have already completed two to three overseas tours.
The Defence Forces has already had a reconnaissance team on the ground in the region for a week earlier this month.