At least 42 people have been killed and hundreds wounded in two explosions outside mosques in Lebanon's northern city of Tripoli.
The explosions, which appeared to be coordinated, went off outside two mosques as Friday prayers ended.
The Lebanese Red Cross has said at least 500 people were hurt in the blasts in the largely Sunni Muslim city.
Ambulances rushed to the scene and heavy black smoke covered the sky.
Television footage showed crushed cars with their windows smashed. Some cars were burning. People ran through the streets carrying a woman whose face was obscured by blood.
Two bodies could be seen on the ground and apartment blocks had their windows smashed.
"There are many casualties in the two mosques, we still do not have a clear idea of the figures," a security source said.
The explosions came a week after a huge blast killed at least 24 people in a southern suburb of Beirut, a Shia Hezbollah militant group stronghold.
Sectarian tension in Lebanon is being stoked by the conflict in neighbouring Syria.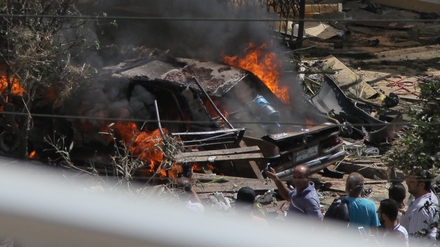 Many of Lebanon's Shia Muslims support Syrian President Bashar al-Assad, who is fighting a largely Sunni insurgency against his rule.