The Department of Foreign Affairs has said it has been in contact with Egyptian authorities with regard to the four Irish citizens detained in Cairo.
The three sisters and their brother became trapped in the al-Fateh mosque in Cairo on Friday after taking part in a protest, and were subsequently detained.
Omaima, 20, Fatima, 22, Somaia, 27 and 17-year-old Ibrahim are the children of Hussein Halawa, who is Imam at Ireland's largest mosque in Clonskeagh in Dublin.
It is understood Irish authorities have not been in direct contact with the Halawa siblings since they were taken from the mosque by Egyptian security forces.
It is understood they are now being held at the Egyptian security forces headquarters adjacent to Tora prison.
It is not yet known if the four will be released or if they will face charges.
Dozens of protesters gathered at the Egyptian Embassy in Dublin today to demand the release of the Halawa siblings and to voice their opposition to government violence in the country.
At least 80 people attended the protest this afternoon, and demonstrators estimate around 175 people took part.
The group included members of the Egyptian Irish Anti-Coup Forum.
Protesters said the Egyptian Embassy in Ireland represented the current military authority in Egypt, which has been responsible for violence.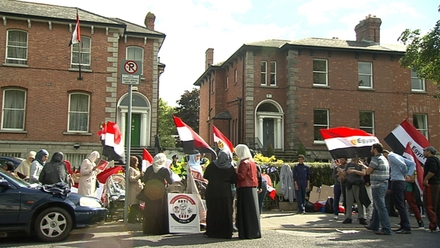 The demonstration has finished for the day, but protesters say they intend to return to the embassy to continue their protest at 9am tomorrow.
Friends of Ibrahim were among those protesting, as well as Nosayba Halawa, a sister of the four siblings.
Ambush near north Sinai
At least 24 Egyptian policemen have been killed and three wounded in an ambush by Islamist militants near the north Sinai town of Rafah.
The policemen were on their way to their barracks in Rafah, near the border with Israel, when militants attacked them with machine guns and rocket-propelled grenades.
Attacks by Islamist militants in north Sinai region have intensified since the army overthrew Islamist president Mohammed Mursi on 3 July.
At least 850 people, including nearly 100 police and soldiers, have been killed in the past week in a crackdown on Mr Mursi's Muslim Brotherhood, which says it renounced violence decades ago.
Hundreds of Brotherhood supporters have been arrested in recent days across Egypt in an effort to end weeks of protests, but the group has said it will not retreat and staged rallies in both Cairo and Alexandria yesterday.
Meanwhile, the US State Department has voiced deep concern about the "suspicious" deaths of Brotherhood prisoners while in custody in Egypt.
It was reported that 37 Mursi supporters died in disputed circumstances yesterday.
A coroner's report said the men died from suffocation after police used tear gas to stop a mass escape while a group of more than 600 suspects were being transported to the Abu Zabal prison on the outskirts of Cairo.
However, photos provided by lawyers representing the detainees show dead bodies with charred faces and limbs and others covered in bruises, which the lawyers said were signs of torture.
EU foreign ministers to discuss Egypt response
European Union foreign ministers are to hold an emergency meeting in Brussels on Wednesday to co-ordinate a response to the crisis in Egypt.
They are expected to examine a range of options to put pressure on the military government following its violent crackdown on supporters of the Brotherhood.
Under an agreement signed last November, the EU pledged €5 billion in loans and grants to the Egyptian government and to civil society.
With the international community apparently powerless to influence events in Egypt, the EU is anxious to use what leverage it has to prevent a further escalation in violence.
Europe does not want to isolate the military government, but it wants to send a strong signal that the repression of opposition supporters, as well as Islamist attacks on Christian churches and state property, must stop.
A final position on Wednesday is not likely to be overly ambitious.
One diplomat said the EU did not want to shoot all its arrows at once.
Instead a statement is likely to signal to the Egyptian government that a range of options are open to the EU if all sides do not try to stabilise the situation.
Europe is Egypt's biggest trading partner; already Germany has threatened to end arms exports and to suspend bilateral aid.
Last year's agreement was an attempt to support the momentum towards the democratic reforms heralded by the Arab Spring.
As such, the funding was conditional on those reforms being implemented by the then government, which was being run by the Muslim Brotherhood.
This year, €1 billion was available to Egypt, but because none of the conditions relating to democratic reforms were met, very little of that money has been released.
Because of that it is not clear exactly what further leverage foreign ministers might be able to exert.
Thomas Cook suspends travel for Irish passengers
Meanwhile, Thomas Cook has said it is suspending travel for Irish passengers from next week.
However, Irish and UK holidaymakers who are currently in the Sharm and Red Sea areas will return as normal either on 21 August or 28 August.
People who were due to fly out next week are being offered a refund or an alternative holiday.