A magnitude 6.5 earthquake struck south of New Zealand's capital sending panicked Wellington workers and residents into the streets.
However, there was little major damage just weeks after a similar size quake shook the harbourside city.
The quake, which hit near the northern tip of New Zealand's South Island, was dangerously shallow at a depth of about 8km (5 miles).
This depth was similar to a deadly tremor that shattered the south island city of Christchurch in 2011.
Fire authorities said it was too early to assess the impact fully.
"The building just shook and it went on and on and on. There's a lot of police out here and fire sirens going off. It's pretty frightening," said Chris Birks, General Manager of the Hotel d'Urville in Blenheim, near the quake epicentre.
There were reports of superficial damage to buildings from the quake, which shattered windows and sent items tumbling from supermarket shelves.
Air, rail and bus services were suspended while officials checked tracks, runways and roads for damage, and trading on New Zealand's NZX stock exchange was halted temporarily.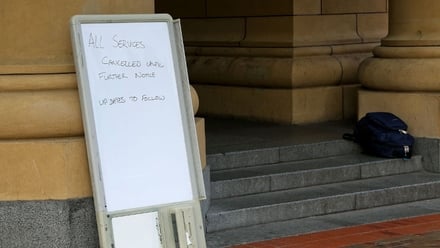 There were also widespread power outages across the north of the South Island.
The US Geological Survey originally measured the quake with a magnitude of 6.8 but later revised that figure down to 6.5.
New Zealand quake monitoring service GNS Science put the magnitude at 6.2.
The quake did not trigger a widespread tsunami alert, according to the Pacific Tsunami Warning Center, although there was a series of strong aftershocks.
Some people were trapped in lifts in Wellington, a city of 400,000 that sprawls across hills along a major geological fault.
New Zealand has been hit by a string of quakes since a shallow, 6.3 magnitude tremor devastated the Canterbury region in 2011, killing nearly 200 people and causing $30 billion in damage to Christchurch, the country's second largest city.
Earthquakes are common in New Zealand, whose two islands lie along the Australia-Pacific tectonic plate boundary.