A fire engulfed Kenya's main airport, forcing the suspension of international passenger flights and choking a vital travel gateway to east Africa.
Authorities said they will begin preparing the airport's domestic terminal, which escaped the blaze, for handling international flights tomorrow.
Tents will be used to create extra space.
Domestic flights and outward bound cargo flights were due to resume on this evening.
The blaze engulfed the terminal buildings and lit up the early morning sky, sending billowing clouds of black smoke rising in a plume that was visible from miles away.
The intense heat repeatedly drove back firefighters who battled for five hours to put out the fire, the worst on record at Jomo Kenyatta International Airport.
Michael Kamau, cabinet secretary for transport said an investigation into the fire would start immediately but that it was too early to speculate on the cause.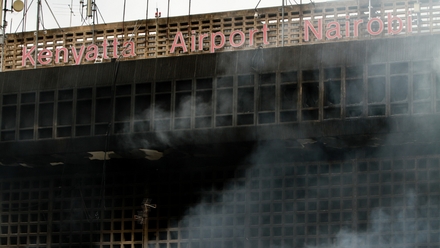 Authorities said they had increased security at the airport and key installations in east Africa's biggest economy.
The blaze stranded thousands of passengers at the airport and exporters of perishable produce, mainly flowers, feared for their export-driven business, a leading source of foreign currency earnings for Kenya alongside tea exports and tourism.
The fire was also a blow to Kenya right at the start of the peak tourism season, a key sector for the Kenyan economy.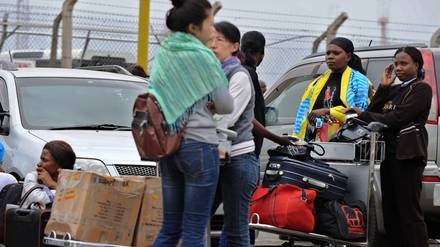 There were no immediate reports of casualties from the fire, which started in the arrivals and immigration area. Business travellers and tourists were diverted to other airports.
The airline said its overnight flights from London and Bangkok would land as scheduled in Nairobi on Thursday morning, the first overseas flights at the airport since the fire.
Preparations to accommodate more international flights would be carried out on Thursday, said Transport secretary Kamau.
Foreign carriers using the terminal include Emirates , British Airways, Qatar, KLM ), Turkish Airways, South African Airways and Ethiopian airlines.
Inside the gutted building, neat lines of metal trolleys with melted plastic handles were the only clear reminder that the building - whose roof partially collapsed - was once an airport terminal.
Some travellers searched for their luggage amid the charred ruins while staff from Western embassies waved their national flags to attract passengers looking for a place to stay.
Kenya Airways said its first overseas flights to land at airport would arrive as scheduled early tomorrow.
"Flights from London and from Bangkok will arrive in Nairobi tomorrow morning as scheduled, and will be processed through the domestic terminal," the national flag carrier said in a statement.
The fire comes less than 48 hours after a fuel jet pump failure caused huge delays at the airport.
That incident forced some flights to be rerouted to airports in Uganda and Rwanda.