Zimbabweans voted in large numbers in a fiercely contested election pitting President Robert Mugabe against Prime Minister Morgan Tsvangirai.
Mr Tsvangirai has vowed to push Africa's oldest leader into retirement after 33 years in power.
The head of the African Union monitoring team has said initial reports from the elections showed a peaceful, orderly and free and fair vote.
Mr Tsvangirai, 61, is making his third attempt to unseat 89-year-old Mr Mugabe, who has run the southern African nation since independence from Britain in 1980.
Both sides have predicted landslide wins.
Polls have closed after a day that started with long queues of people braving unseasonably cold weather to stand in line from well before dawn.
In one polling station in the western province of Manicaland, a key swing region, the queue stretched for 1km.
Soon after the local church clock struck 7am the queue began to move, and as the sun broke voters began to emerge, holding up ink-stained fingers to prove they had made their mark.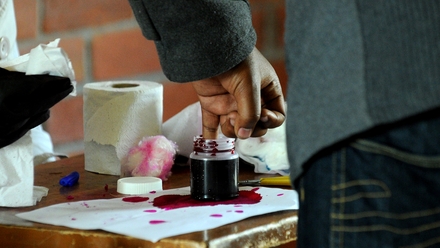 The Election Commission said nationwide turnout was high, but with no breakdown between urban and rural areas it is impossible to say whether this will benefit Mr Mugabe or his challenger.
Asked on the eve of the vote if he and his ZANU-PF party would accept defeat, Mr Mugabe was unequivocal: "If you go into a process and join a competition where there are only two outcomes, win or lose, you can't be both. You either win or lose. If you lose, you must surrender."
A spokesman for Mr Tsvangirai's Movement for Democratic Change (MDC) said the party was prepared only to accept the results if the poll was "free and fair".
Western election observers have been barred from the elections, leaving the task of independent oversight to 500 regional and 7,000 domestic monitors.
Results are expected well within the five-day legal limit.
Around 6.4 million people, or half the population, are registered to vote.