Investigators looking for the cause of an oil train derailment in the Canadian town of Lac-Megantic are focusing on an earlier blaze on the same train.
They believe it may have set off a chain of events that led to the explosions that killed at least 15 people.
Officials are examining the charred epicentre looking for what could be dozens of additional victims.
Canadian police say the number of people missing and dead is now 60, up from 50.
The confirmed death toll is 15.
Investigators are looking at a locomotive blaze on the same train in a nearby town a few hours before the derailment.
Transportation Safety Board investigator Donald Ross said the locomotive's black box has been recovered and investigators were examining whether the air brakes or the hand brake malfunctioned.
"The extent to which (the fire) played into the sequences of events is a focal point of our investigation," Mr Ross said.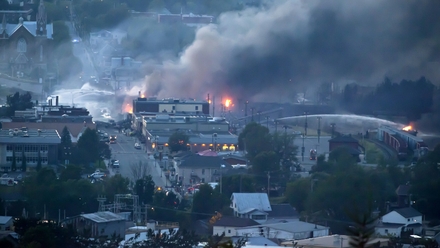 Nantes Fire Chief Patrick Lambert said that when the same train caught fire hours prior to the accident, the engine was shut off per the standard operating procedure dictated by Montreal, Maine & Atlantic Railway.
The blaze was extinguished within about 45 minutes and that is where the fire department's involvement ended, Mr Lambert said.
"The people from MMA told us, 'That's great - the train is secure, there's no more fire, there's nothing anymore, there's no more danger,"' Chief Lambert told reporters. "We were given our leave, and we left."
Edward Burkhardt, the president and CEO of the railway's parent company Rail World, suggested that the decision to shut off the locomotive to put out the fire might have disabled the brakes.
"An hour or so after the locomotive was shut down, the train rolled away," Mr Burkhardt told the Canadian Broadcast Corp.
Amateur video captures crash disaster
Dramatic new amateur video has emerged of the rail disaster.
Local resident Adrien Aubert filmed the tanker train explosion in his Quebec community early Saturday morning.
"All of downtown is on fire," Mr Aubert said in the video as a fireball erupts in the Quebec town of 6,000 people.
Mr Aubert was about 200 metres from the explosion, which destroyed much of the town's core.
"It was a mix of people who were panicking, but also a lot of people who were standing there open-mouthed without really reacting, because I think it's not something they are used to seeing in this part of the world," he said.