An Asiana Airlines Boeing 777 with 307 people on board crashed and burst into flames as it landed at San Francisco International Airport, killing two people and injuring over 180.
A federal safety official says the cockpit voice recorder showed the jetliner received a warning that it could stall and tried to increase its speed before it crashed.
National Transportation Safety Board chief Deborah Hersman said the recorder showed the crew called to abort the landing about 1.5 seconds before the crash.
The recorder also showed there was a call to increase airspeed roughly seven seconds before impact.
Before that, she says, there was no indication in the recordings that the aircraft was having any problems.
Witnesses said the tail of the plane appeared to hit the approach area of the runway, which juts out into San Francisco Bay, as it came in for landing.
The tail came off and the aircraft appeared to bounce violently, scattering a trail of debris, before coming to rest on the tarmac.
Pictures taken by survivors immediately after the crash showed passengers emerging from the wrecked plane and hurrying away.
Thick smoke then billowed from the fuselage, and TV footage later showed the aircraft gutted and blackened by fire, with much of its roof gone.
There was no immediate indication of the cause of the accident, and federal officials were travelling from Washington to investigate.
One survivor said the pilot seemed to be trying to gain altitude just before crash.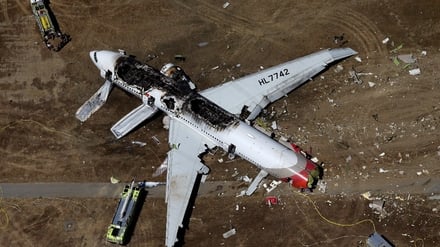 Asiana Airlines said the flight, which had originated in Shanghai, had carried 291 passengers and 16 crew members. Most were Chinese, Korean and US nationals.
The dead were both teenage Chinese girls who had been seated at the rear of the aircraft, according to government officials in Seoul and Asiana.
At least 70 Chinese students and teachers were on the plane heading to summer camps, according to education authorities in China.
Five people were in critical condition at San Francisco General Hospital, where a total of 52 people were treated for burns, fractures and internal injuries.
Three people were in critical condition at Stanford Hospital.
Asiana Airlines said it did not appear that the crash had been caused by mechanical failure although it declined to blame either the pilot or an error by the control tower.
The crash was the first-ever fatal accident involving the Boeing 777, a popular long-range jet that has been in service since 1995.
It was the first fatal commercial airline accident in the United States since a regional plane operated by Colgan Air crashed in New York in 2009.
San Francisco International Airport, a major West Coast hub and gateway to Asia, was shut down for several hours after the crash and flights were diverted to Los Angeles, Seattle, Oakland and San Jose.
By late yesterday two runways had reopened even as scores of safety workers scoured the airfield for debris.