Hundreds of mourners turned out for the funeral of actor James Gandolfini at New York's Cathedral Church of Saint John the Divine.
Family members, fellow actors and other loved ones embraced as the funeral procession made its way to the side entrance of the historic cathedral.
New Jersey Governor Chris Christie was among the attendees, as was actor Alec Baldwin.
The creator of "The Sopranos" said the actor brought the traits of a sad boy, "amazed and confused," to the role of Tony Soprano.
"You were a good boy," David Chase said at the ceremony.
One of four speakers at the funeral, Mr Chase gave his remarks in the form of a letter to Mr Gandolfini in the present tense.
The actor's widow, Deborah Lin Gandolfini, and two family friends, were also speakers at the ceremony.
Mr Chase remembered that Mr Gandolfini once told him that "you know what I want to be? A man. That's all. I want to be a man".
He said he marvelled upon hearing that, since Mr Gandolfini represented a man so many others wanted to be.
After the ceremony, fellow "Sopranos" actors spoke fondly of their colleague.
"He was a joy to work with, a great actor, a great man and a great human being and a great humanitarian", said Frank Albanese, who played "Uncle Pat Blundetto" in the show.
Tony Sirico, who played "Paulie Walnuts" in the series, mourned for the beloved actor's family.
"He's got a new baby, she'll grow up and have to be told who he was by her mom. It's sad, sad."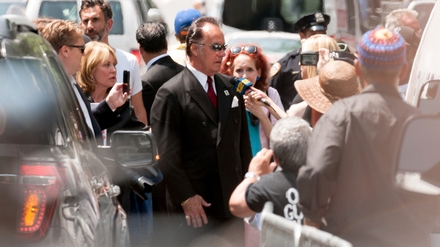 The 51-year-old actor best known for his role as mob boss Tony Soprano in the HBO series died of a heart attack last week while on holiday with his son in Italy.
Broadway theatres paid tribute by dimming their lights briefly on Wednesday night.