Greece's Democratic Left party may pull out of the ruling coalition after talks to resume state television broadcasts collapsed.
Party members angered by the abrupt shutdown of broadcaster ERT last week are meeting to decide whether to continue backing Prime Minister Antonis Samaras.
Mr Samaras has warned he is ready to press ahead without them.
"Our aim is to conclude our effort to save the country, always with a four-year term in our sights. We hope for the Democratic Left's support," he said.
Splits emerged among the party's 14 politicians, with one deputy saying it should stay in government and another that it should quit.
Mr Samaras's conservative New Democracy party and its Socialist PASOK ally jointly have 153 deputies, a majority of three in the country's 300-member parliament.
That means they could manage without the Democratic Left, but a departure of the party would be a major blow.
Officials from all three parties ruled out snap elections, which would derail Greece's bailout programme.
An ongoing inspection visit to Greece by the European Union and the International Monetary Fund needs to be completed as planned in July to avoid a shortfall in the country's finances, lenders said yesterday.
At least two independent politicians have suggested they would back Mr Samaras's government, which came to power a year ago and has bickered ever since over austerity and immigration.
The latest crisis began nine days ago when Mr Samaras abruptly pulled ERT off air, calling it a hotbed of waste and privilege, sparking an outcry from his two allies, unions and journalists.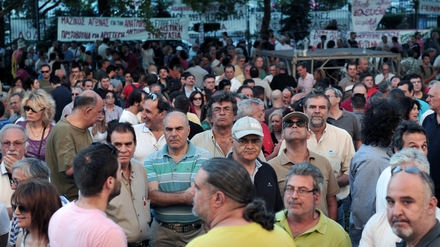 He was acting under pressure to fire public sector employees to show Greece's EU and IMF lenders that it is sticking to promises to cut costs under its bailout programme.
After initially refusing to restart ERT, Mr Samaras yesterday said he offered to re-hire at a new broadcaster about 2,000 out of 2,600 ERT workers who were fired, a compromise accepted by PASOK, but rejected by the Democratic Left.
But Democratic Left leader Fotis Kouvelis insisted that all workers be re-hired, saying the issue at stake was far bigger than state television broadcasts.
Evangelos Venizelos, leader of PASOK, which has heavily suffered from Greece's debt crisis and would lose further in a new election, called on Mr Kouvelis to stay in the coalition.
But PASOK would continue backing the government even without the Democratic Left, party spokesman Dimitris Karydis said.
Greece's top administrative court yesterday confirmed an earlier ruling suspending ERT's closure and calling for a transitional, slimmed-down broadcaster to go on air immediately.
ERT remains off air despite Monday's court ruling ordering it back on.
Meanwhile, ERT workers have continued broadcasting a 24-hour bootleg version on the internet from their headquarters, where workers and unions have been protesting since last Tuesday.