Fire taken from the Eternal Flame at the graveside of former US president John F Kennedy has arrived in Ireland on board an Aer Lingus flight from New York.
The Emigrant Flame was transferred from the care of the Irish Army to the Naval Service.
Minister of State Paul Kehoe carried the lamp containing the flame down the steps of the airplane, before handing it to Col Brendan Delaney, Officer in Charge of the Arlington flame escort.
The flame was then handed to officers from the Naval Service who are bringing it to New Ross in Co Wexford aboard the LE Orla.
It is being transported in a specially designed miner's lamp identical to the one was used to transfer the Olympic flame from Athens to London for the 2012 Olympics.
The flame will be used to light the Emigrant Flame at a ceremony in Mr Kennedy's ancestral home of New Ross on Saturday.
The ceremony is part of the JFK50 celebrations to remember president Kennedy's visit to Ireland in June 1963.
Elsewhere, Caroline Kennedy, the only surviving child of Mr Kennedy and his wife Jacqueline, has opened the National Library's JFK Homecoming Exhibition.
Ms Kennedy and her daughter Tatiana opened the multimedia exhibition marking the anniversary of the president's visit.
Minister for Arts, Heritage and the Gaeltacht Jimmy Deenihan said President Kennedy was a visionary in many areas and his "love of the arts shone in his presidency".
The minister also announced the first John F Kennedy National Library of Ireland Poetry Scholarship in which scholarships in poetry will be awarded to young students each year.
Earlier, Ms Kennedy and members of her family visited President Michael D Higgins and his wife Sabina at Áras an Uachtaráin.
During the visit the President showed Ms Kennedy photographs from her father's visit, as well as the silver writing set that the late US President presented to Eamon de Valera.
The family also attended a Government dinner hosted by the Tánaiste at Iveagh House.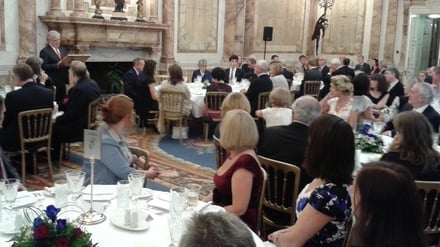 The venue and menu were carefully selected as John F Kennedy attended a Government dinner at the same location during his trip to Ireland in 1963.
19 members of the Kennedy family enjoyed a salmon starter, a main course of beef and peas and a dessert of Wexford strawberries and cream.
Addressing the event, Caroline Kennedy said that even 50 years ago Ireland led by example by sending members of the Defence Forces to a UN peacekeeping mission in the Congo.
Ms Kennedy said that the world owed Ireland "a debt of gratitude" for continuing to send peacekeepers to some of the most dangerous areas of the world.
She also said that the Northern Ireland Peace Process had shown the world "the power of hope and the importance of dialogue."
She said that Ireland had made President Kennedy's dream of a "practical attainable peace," based on a "series of concrete acts and effective agreements" a reality.