US President Barack Obama has urged Northern Ireland's politicians to keep working towards a permanent peace.
The president addressed thousands of students at the Waterfront Hall in Belfast this morning.
He was speaking ahead of the summit of G8 leaders taking place in Co Fermanagh this afternoon.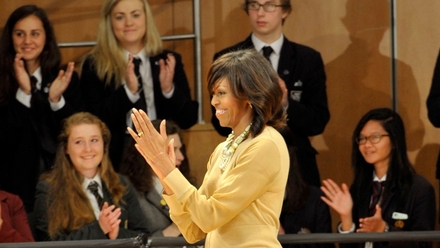 Michelle Obama introduced her husband as he delivered the keynote address about the peace process at the convention centre.
Their daughters, Malia and Sasha, are accompanying their parents on the visit to Northern Ireland and the Republic.
The president used much of his speech to encourage politicians and the people of the North to keep faith with the peace process.
However, he acknowledged that challenges still exist.
"There are still people who have reaped the rewards of peace; there are still those not convinced that the effort is worth it. There are still wounds that have not been healed and communities where tension and mistrust hangs in the air," he said.
"If you continue your courageous path towards a permanent peace and all the social and economic benefits that come with it that wont just be good for you," he added.
"It will be good for this entire island, for the United Kingdom, for Europe and it will be good for the world."
The president promised the full support of the US to those who chose the path of peace and said America would be behind them every step of the way.
"We will always be a wind at your back, " he said.
The president also told the students, who came from a number of schools across the North, that "these daily moments of life in a bustling city in a changing country may seem ordinary to many of you. And that's what makes it so extraordinary.
"For that's what your parents and grandparents dreamt for all of you. To travel without the burden of checkpoints, or roadblocks, and seeing soldiers on patrol. To enjoy a sunny day free from the ever-present awareness that violence could blacken it at any moment.
"To befriend or fall in love with whomever you want. They hoped for a day when the world would think something different when they heard the word Belfast. And because of their effort. Because of their courage. That day has come," he added.
Mr Obama also met First Minister Peter Robinson and Deputy First Minister Martin McGuinness.
Meanwhile, Michelle Obama and her daughters are in Dublin, where they viewed the Book of Kells and explored archives documenting the Obamas' Irish ancestry at Trinity College.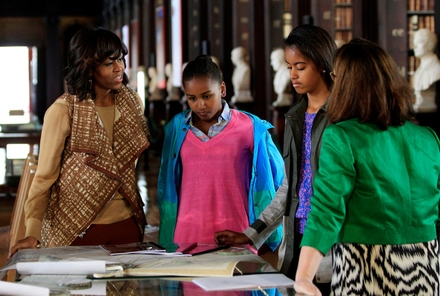 They also attended a special performance of Riverdance at the Gaiety Theatre.