Turkish Prime Minister Recep Tayyip Erdogan said it was his "duty" to order riot police to evict activists occupying an Istanbul park that became a centre of defiance against his rule.
In a thunderous speech to hundreds of thousands of supporters in western Istanbul, Erdogan also railed against foreign media coverage of the unrest amid criticism over his government's handling of the protests.
About 10km away in central Istanbul, riot police fired tear gas and used water cannons on thousands of defiant protesters attempting to regroup and demonstrate again in the city's main Taksim Square.
Clashes broke out in nearby neighbourhoods with stone-throwing youths.
Protesters are angry over the eviction of overwhelmingly peaceful activists at Gezi Park, next to Taksim Square, who oppose government plans to rip down its trees and erect a replica Ottoman-era barracks.
Speaking to his supporters, Erdogan recalled telling Interior Ministry officials: "You are going to clear Gezi Park. We have reached an end. We cannot stand it anymore.' And as you know, yesterday the operation was carried out, and it was cleared."
"I did my duty as prime minister," he said, "Otherwise there would be no point in my being in office," he said.
Istanbul's governor, Huseyin Avni Mutlu, said the square was off-limits to the public for the time being, and nobody would be allowed to gather.
A spokesman for the protesters vowed the group would retake Gezi Park.
"We will win Taksim Square again and we will win Taksim Gezi Park again," Alican Elagoz said.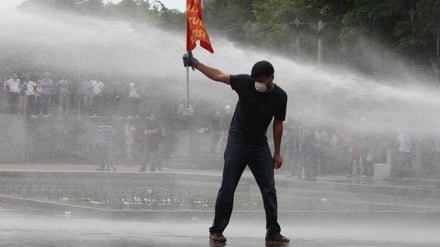 The protests, which at one point spread to dozens of Turkish cities and towns, have evolved into a much broader expression of discontent about Mr Erdogan's government and what many say is his increasingly authoritarian decision-making.
Mr Erdogan, who was elected with 50% of the vote for his third term in 2011, vehemently rejects the accusations by protesters and points to his strong support base.
He has already offered to defer to a court ruling on the legality of the government's contested park redevelopment plan and floated the possibility of a referendum on it.
But concessions over the park seemed not to be enough.