Demonstrators in Turkey have clashed for a second time since anti-government protests began ten days ago.
The state-run Anadolu Agency said a pro-government group hurled stones at a march by anti-government demonstrators in the city of Adana.
The agency said police evacuated women and children, but the two groups continued to clash with stones and batons.
The nationwide anti-government protests were sparked by outrage over police use of force against an environmental protest in Istanbul's Taksim Square on 31 May.
They have grown into a display of discontent toward Prime Minister Recep Tayyip Erdogan's government.
Three people, including a police officer, have died since the unrest began.
Tens of thousands of Turks massed in Taksim Square where riot police backed by helicopters and armoured vehicles first clashed with protesters a week ago, some chanting for Mr Erdogan to resign.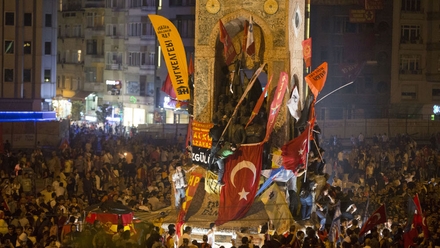 Mr Erdogan has given no indication of plans to clear out Taksim, around which protesters have built dozens of barricades made of ripped up paving stones, street signs, vandalised vehicles and corrugated iron, clogging part of the city centre.
Taksim is lined by luxury hotels that should be busy as the summer season starts in one of the world's most-visited cities.
A forced eviction might trigger a repeat of the clashes seen earlier in the week, which brought international condemnation.
Mr Erdogan has made clear he has no intention of stepping aside, pointing to his AK Party's rising share of the vote in the country's past three elections, and has no clear rivals inside the party or out.