Thousands of people have been evacuated from their homes in a region of eastern Germany where the Elbe river has flooded and burst through a dam.
In Magdeburg more than 23,000 residents had to leave their homes after many streets and buildings were flooded and electricity was shut off,
At least 21 flood-related deaths have been reported in central Europe, as rivers such as the Danube, the Elbe and the Vlatava have overflowed after a week of heavy rains.
In Hungary the swollen Danube is approaching Budapest where soldiers and volunteers are building flood walls.
Parts of the south and north ends of the Hungarian capital are already under water, but the city's downtown area, including the parliament building and several large hotels near the river bank, are seemingly out of direct danger as flood walls were built to a height of 30.5ft.
Officials said nearly 8,000 volunteers and specialised crews in Budapest had strengthened flood walls by packing and placing one million sand bags.
Officials say defenses should keep the water out of most of the capital.
In the Czech Republic, floods swept through parts of the historic capital Prague this week.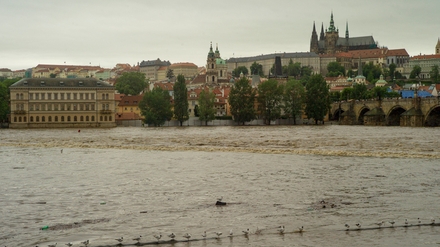 The government's central crisis committee ordered local authorities to leave all flood protection measures in place because meteorologists have forecast possible heavy rains for the next few days and the situation could get worse again.
Ten people died in flooding in the Czech Republic.
Prague's metro system was severely affected last week, but is expected to be fully operational by 10 June.