Jack and Emily remained the most popular names for newborn babies in 2012.
Last year, 831 baby boys were called Jack and 626 baby girls were called Emily, according to the Central Statistics Office.
Jack has been the most popular name for a boy since 2007 and Emily has been the most popular name for a girl for two years.
The top five boys' names in 2012 were Jack, James, Daniel, Sean and Conor.
The top five girls' names were Emily, Sophie, Emma, Grace and Lily, identical to their positioning in 2011.
There were three first time entries to the top 100 for boys: Isaac, Danny and Logan.
While Evie, Amelie, Hanna, Maisie and Rose were new entries in the girls' list.
Just under two thirds of children born in Ireland last year were given a name out of the top 100 most popular for either gender.
CSO table on top ten girls' names in order of popularity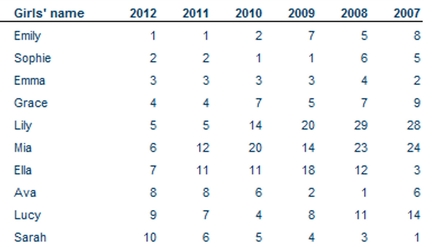 CSO table on top ten boys' names in order of popularity