Minister for Children and Youth Affairs Frances Fitzgerald has said parents will be able to go online "within a matter of weeks" to look at inspection reports on the crèche their child attends.
She said it was a "bigger job" putting past inspections online but, they will be made available to parents who request them.
Speaking on RTÉ's Prime Time programme, Ms Fitzgerald said addressing issues of concern in the childcare sector will require providers, parents and government working together.
"I take the responsibility but so do the providers have a responsibility. This is about the different parts working together."
Earlier today, Ms Fitzgerald said she has commissioned a Health Service Executive review of inspection reports into privately run childcare facilities.
She said she asked HSE National Director of Child and Family Services Gordon Jeyes to carry out the review, in order to assess if any patterns exist.
Ms Fitzgerald said this would be the first time a report of this kind is carried out.
"We need to see what patterns have emerged in the inspection reports because we haven't had a national analysis of that," she said.
Earlier, Tánaiste Eamon Gilmore said he will not have the issue of creches used as a "political football".
Speaking during Leaders' Questions, Mr Gilmore said the Government would not tolerate a situation where taxpayers' money was subsidising facilities where children were not being treated properly.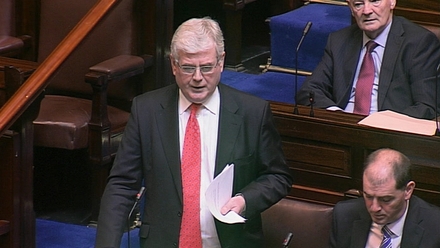 Sinn Féin TD Mary Lou McDonald said it was not a matter of a "political football", but "accountability and good governance".
Ms McDonald asked the Tánaiste why the Government website JobBridge was advertising for "yellow pack" carers for facilities that featured in the programme two nights ago.
Mr Gilmore confirmed that none of the facilities that featured will have JobBridge approval.
Meanwhile, there has been a call for the Minister for Children to set a deadline for the introduction of minimum qualifications for those working in the childcare sector.
Association of Childhood Professionals Chairperson Marian Quinn said that unless childcare providers are involved in the provision of the State subsidised free preschool year, no minimum qualification currently applies.
Speaking on RTÉ's Morning Ireland, Ms Quinn said that while around 75% of those working in the field have chosen to engage in training, this is largely voluntary.
"There's no minimum qualification and that's something that we would have been calling for, for a number of years.
"We would call on the minister to implement an actual timeframe where either FETAC Level 5 or FETAC Level 6 is going to be the minimum that people working in this profession should have."
Ms Quinn said that delays in obtaining Garda vetting reports on prospective new employees are also causing difficulties.
The process usually takes around eight weeks, she says, but can take between 14 and 16 weeks.
Independent Senator and Chair of Early Childhood Ireland Jillian Van Turnhout wants the minister to fast-track new laws, which would make it a criminal offence not to report abuses.
Ms van Turnhout has said she will ask Ms Fitzgerald in the Seanad whether the HSE is capable of dealing with parents' concerns on childcare facilities.
Following the programme's broadcast the parent support line at the ISPCC received 23 calls.
A spokesperson said the service rarely receives more than three calls a day.