A US Senate panel has approved legislation to give millions of illegal immigrants a path to citizenship.
The full Senate will next month debate what would be the biggest changes in US immigration policy in a generation.
US President Barack Obama praised the Senate Judiciary Committee's action, saying the bill was consistent with goals he has expressed.
He has made enactment of an immigration bill one of his top priorities for this year.
"I encourage the full Senate to bring this bipartisan bill to the floor at the earliest possible opportunity and remain hopeful that the amendment process will lead to further improvements," Mr Obama said in a statement released by the White House.
By a vote of 13-5, the Senate panel approved the bill that would put 11m illegal residents on a 13-year path to citizenship, while further strengthening security along the border with Mexico.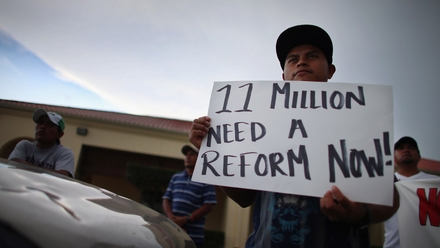 The vote followed the committee's decision to embrace a Republican move to ease restrictions on high-tech US companies that want to hire more skilled workers from countries such as India and China.
In a dramatic move before the vote, Senate Judiciary Committee Chairman Patrick Leahy, a Democrat from Vermont, withdrew an amendment to give people the right to sponsor same-sex partners who are foreigners for permanent legal status.
Mr Leahy's colleagues on the committee - Republicans and Democrats - warned that the amendment would kill the legislation in Congress.
Democrats generally favour providing equal treatment for heterosexual and homosexual couples, while many Republicans oppose doing so.
"I'm committed to ending that discrimination," Mr Leahy said before withdrawing the amendment.
"Democrats should be ashamed of themselves for not defending LGBT [lesbian, gay, bisexual, transgender] families against the scapegoating of their Republican colleagues," said Rachel Tiven, executive director of Immigration Equality, a gay rights group.
Republican Senator Orrin Hatch of Utah said the changes made to visa rules governing high-skilled workers, which he had demanded on behalf of the US technology industry, were the price of his support for the bill when the committee voted. Mr Hatch voted for the bill.
In another encouraging sign for the legislation, Senate Republican Leader Mitch McConnell said he will not block the measure from going to the floor for a full debate.
Mr McConnell of Kentucky did not say how he ultimately would vote on the bill, but he told reporters that the bipartisan measure "made a substantial contribution to moving the issue forward".
All of the core elements of the legislation have been maintained after five long work sessions by the committee.
Furthermore, some border security provisions critical to conservatives and border-state members of Congress have been strengthened.