Several major Western retailers have embraced a plan requiring them to pay for factory improvements in Bangladesh.
Global pressure mounted on Bangladesh and the brands it manufactures for after the deaths of over 1,100 workers in Dhaka last month.
The Rana Plaza building collapse on 24 April was the worst tragedy in the history of the global garment industry.
Swedish retailing giant H&M, the biggest purchaser of garments from Bangladesh said it would sign a contract requiring them to conduct independent safety inspections of factories and cover the costs of repairs.
British companies Primark and Tesco, C&A of the Netherlands and Spain's Inditex will also sign the deal.
The pact also calls for them to pay up to $500,000 (€385,000) a year toward the effort and to stop doing business with any factory that refuses to make safety improvements.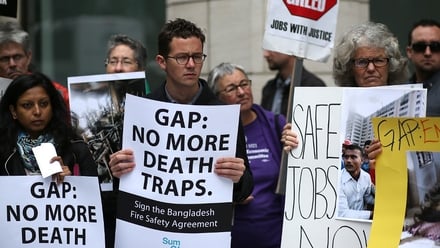 Two other companies agreed to sign last year: PVH, which makes clothes under the Calvin Klein, Tommy Hilfiger and Izod labels; and German retailer Tchibo.
Among the big holdouts are Wal-Mart Stores, which is the second-largest producer of clothing in Bangladesh, and Gap.
Gap, which had been close to signing the agreement last year, said yesterday that the pact is "within reach," but the company is concerned about the possible legal liability involved.
Bangladesh has about 5,000 garment factories and 3.6 million garment workers.
It is the third-biggest exporter of clothes in the world, after China and Italy.
Working conditions in the $20bn (€15bn) industry are grim, a result of government corruption, desperation for jobs, and industry indifference.
Minimum wages for garment workers are among the lowest in the world at 3,000 takas (€29) a month.
Meanwhile, thousands of mourners have gathered at the Rana Plaza wreckage for a service for the 1,127 people who died.
The army yesterday ended a nearly three-week search for bodies among the rubble and turned control of the site over to the civilian government for cleanup.
Recovery workers got a boost Friday when they pulled a 19-year-old seamstress alive from the wreckage.
But most of their work entailed removing corpses that were so badly decomposed from the heat they could only be identified if their mobile phones or work IDs were found with them.
The last body was found Sunday night.
The tragedy came months after a fire at another Bangladesh garment factory killed 112 workers.