Wildfires along the California coast northwest of Los Angeles are threatening thousands of homes and a military base.
Around 200 dwellings were evacuated and a university campus closed.
A force of over 900 firefighters have managed to carve containment lines around about 10% of the perimeter of the fires.
The fires have scorched up to 4,047 hectares of dry, dense brush and shrubland since erupting yesterday morning.
Fire officials said 15 homes were damaged, though no residential structures were lost and no injuries have been reported.
While the extent of evacuations was scaled back today, some 4,000 homes were considered to be under threat, the Ventura County Fire Department said.
The so-called Springs Fire and a flurry of smaller blazes around the state this week marked an abrupt start to a California fire season that weather forecasters predict will be worsened by a summer of high temperatures and drought throughout much of the US West.
"We're seeing fires burning like we usually see in late summer, at the height of the fire season, and it's only May," Ventura County Fire Department spokesman Tom Kruschke said.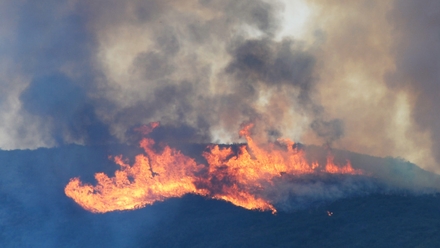 Wind conditions had improved enough to allow several planes equipped for dumping payloads of fire-retardant chemicals to return to the air at dawn along with a fleet of six water-dropping helicopters.
The blaze broke out yesterday beside the US 101 freeway, less than 16kms north of the Pacific coast, and quickly spread to the fringes of the communities of Camarillo and Newbury Park.
Flames had advanced to within a short distance of the ocean's edge in some places today, forcing authorities to close several miles of Pacific Coast Highway.
At the Point Mugu US Naval Air Station on the coast, all non-essential personnel were ordered to stay home for a second day.
Some 200 homes along the coastal highway and canyon roads leading up into the foothills north from the highway remained evacuated.
California State University at Channel Islands campus, including student housing, was closed for a second day, the university said in a website posting, though official evacuation orders for the school were lifted.