Eurozone finance ministers have reached an agreement with the International Monetary Fund on a programme to reduce Greek debt.
The deal puts Greece on the way to get the next installment of its much-needed bailout loans.
Jean-Claude Juncker, head of the eurogroup of finance ministers, said after the decision that the first disbursement is set to take place on 13 December.
European Central Bank President Mario Draghi said markets should pay heed.
He said: "It will certainly reduce the uncertainty and strengthen confidence in Europe and in Greece."
This was the third time in the last two weeks that finance ministers from the eurozone had tried to hammer out a deal on the next installment of bailout money amounting to some €44.6bn.
Greek Prime Minister Antonis Samaras welcomed it as a great victory.
"As Greeks, we fought together. And tomorrow a new day begins for all Greeks," he said.
The EU lauded all Greeks for holding their country back from the brink.
Mr Juncker said: "We strongly believe in the Greek capacity to recover. The Greek people are courageous people. They are willing to bring their country back on the path of growth."
Greece is predicted to enter its sixth year of recession shortly and has a quarter of its workforce out of work.
There had been fears it might be forced to drop out of the eurozone, destabilising other countries in the process.
The main aim of the bailout programme is to correct Greece's economy and get it to a point where it can independently raise money on the debt markets.
It has been clear for months that the country is far from achieving that goal.
The talks have centred on trying to get Greece back on the path to sustainability by reaching an agreement on how the country's debt load can be reduced.
Mr Juncker said the agreement includes:
- A plan to reduce Greece's debt level to 124% of its gross domestic product by 2020 and below 110% by 2022. The IMF had originally insisted on a debt-to-GDP ratio of 120% by 2020.
- A cut of 100 basis points on the interest rate charged to Greece by other eurozone member states, excluding those that are also receiving bailouts.
- A 15-year extension of the maturities of loans from other countries and the eurozone's bailout fund, the European Financial Stability Facility, and a deferral of interest payments by Greece on EFSF loans by ten years.
"This is not just about money," Mr Juncker said. "It is the promise of a better future for the Greek people and for the euro area as a whole."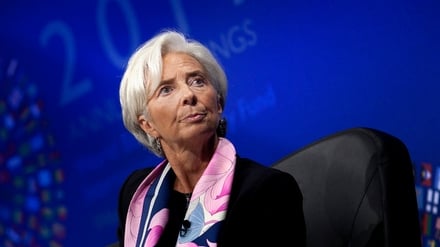 IMF Managing Director Christine Lagarde also said the agreement was significant.
"We wanted to make sure that Greece was back on track," Ms Lagarde said. "If you put it all together it is a significant amount."
Greece will get €34.4bn straight away and the rest in separate installments in January, February and March.
The political agreement reached will have to be submitted to parliaments in some countries.
After that, eurozone finance ministers plan to hold another meeting, either in person or by telephone, to give final approval to the disbursement.
Reaction to Greek deal
UK MEP Sharon Bowles has said that Ireland has got a "raw deal" in its bailout, compared to the agreement struck in Europe last night on the Greek debt crisis.
The European Parliament's Economic and Monetary Affairs Committee chair said "morally" something had to be done for Ireland.
Speaking on RTÉ's Morning Ireland, she said the most obvious way was to do a deal on the promissory note, the means by which Anglo Irish Bank was funded.
She said that there has been quite a bit of talk about a deal for Ireland on the promissory note and with "a certain amount of optimism" it could be done.
Elsewhere, a leading economist has said the agreement reached by European finance ministers last night on Greece's debt should make negotiations on a better deal for Ireland more possible.
UCD Professor of Economics Karl Whelan said the deal for Greece was in "stark contrast" to the "pretty unseemly haste" with which Ireland is being forced to repay the promissory note for Anglo Irish Bank.
Professor Whelan said Greece is becoming a model of how the EU is becoming more flexible in how it deals with debt of unsustainable levels.
He said: "It makes negotiations on a better deal for Ireland a lot more possible."
Professor Whelan said that the Government should now go to the European Central Bank and state what it wants and question what it is going to do.
He also urged that pressure be put on the governing council of the ECB to say why it is objecting to a deal.
He said while this was not unilateral action, the Government needed to have a plan.
Professor Whelan said there was "no good reason" why repayment of the promissory note could not be "stretched out" over a longer period.
Irish exemption
Ireland will be exempted from two of the elements that form part of the debt sustainability deal agreed last night in Brussels.
One part of the plan is that there should be a reduction in the interest rate Greece pays for the first bailout, known as the Greek Loan Facility.
That was a €110bn rescue package put together on a bilateral basis between eurozone countries and Greece in May 2010, and it was done before the creation of the European Financial Stability Facility (EFSF).
At the time, Ireland contributed €345.7m to the Greek rescue.
The eurozone agreed last February to reduce the interest rate on the loan to 150 basis points above the so-called interbank rate.
As part of last night's deal Greece won a further reduction in the interest rate, down 100 basis points to 50 basis points.
However, it was agreed that Ireland and Portugal will still earn interest at 150 basis points, thereby avoiding the loss of some €5.2m a year.
Secondly, Ireland will avail of an exemption from the decision that the ECB forgo profits on its portfolio of Greek bonds.
Normally those profits would accrue to national central banks. As part of a plan to help Greece to reduce its debt-to-GDP ratio by 4.6% by 2020, the profits will instead go back to Greece.
Ireland, as well as Portugal, will be exempt from this manoeuvre and thus the Central Bank of Ireland will still receive the profits.
It is understood this will net the Exchequer at least €10m.
A Department of Finance source confirmed that Minister Michael Noonan did not seek similar interest rate cuts or changes to loan maturities in relation to Ireland's debt level.
"This is a unique deal for Greece. We have our own separate set of discussions. There is no cross-over between the two countries," the source said.
The source pointed out that over the next eight to ten years there will be tough conditionality attached to Greece availing of the deal to reduce its debt level.