US President Barack Obama has won a second term in the White House, after a clear victory over Republican challenger Mitt Romney.
Mr Obama told thousands of supporters in Chicago that "we have picked ourselves up, we have fought our way back" and that for the US, the best is yet to come.
He vowed to listen to both sides of the political divide in the weeks ahead and said he would return to the White House more determined than ever to confront America's challenges.
"Whether I earned your vote or not, I have listened to you, I have learned from you. And you have made me a better president," Mr Obama said.
The nationwide popular vote remained extremely close with Mr Obama taking about 50% to 49% for Mr Romney.
Mr Romney, a former Massachusetts governor, conceded in a gracious speech delivered to disappointed supporters at the Boston Convention Center.
He had called Mr Obama to concede after a brief controversy over whether the president had really won Ohio.
"This is a time of great challenge for our nation," Mr Romney told the crowd.
"I pray that the president will be successful in guiding our nation."
He warned against partisan bickering and urged politicians on both sides to "put the people before the politics".
Mr Obama told his supporters that he hoped to sit down with Mr Romney in the weeks ahead and examine ways to meet the challenges ahead.
The president scored impressive victories in the crucial state of Ohio and heavily contested swing states of Virginia, Nevada, Iowa and Colorado.
They carried the Democrat past the 270 electoral votes needed for victory in the state-by-state system of choosing a president.
Mr Obama won by convincing voters to stick with him as he tries to reignite strong economic growth and recover from the worst recession since the Great Depression of the 1930s.
He enters his second four-year term faced with a difficult task of tackling $1 trillion annual deficits, reducing a $16 trillion national debt and overhauling expensive social programmes.
RTÉ reporters Richard Downes, Anthony Murnane, Robert Shortt and Cian McCormack are in the US and you can follow them on Twitter.
If you are viewing this RTÉ News Now app, please go to m.rte.ie to view embedded photgraphs.
RACE TO 270
CBS Electoral Vote Estimate: Obama 303 - Romney 206

Popular Vote: Obama 55.9m (50%) - Romney 54.6m (49%)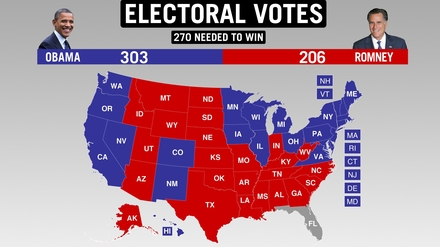 Updates
1026 Taoiseach Enda Kenny has offered his congratulations to President Obama
Mr Kenny said: "I am confident that the relationship between our two countries will continue to flourish during his coming term of office, as our administrations continue to work together across a range of policy areas.
"I also look forward to working closely with President Obama and the United States as Ireland assumes the Presidency of the European Union on 1 January 2013."
0939 Russian President Vladimir Putin said he hoped Obama's re-election will have a positive impact on ties with the US.
Foreign minister Sergei Lavrov also said Moscow was ready to take cooperation with the US government as far as Washington was willing to go.
0853 Tánaiste and Minister for Foreign Affairs Eamon Gilmore has congratulated Obama.
He said Mr Obama had proven himself to be a "very good friend of Ireland" and looked forward to working with him on issues like immigration and economic recovery.
"We have work, of course, to do. We have work to do across a number of areas.
"And next year, when Ireland holds the presidency of the European Union we will be working on an EU-US trade agreement to try to grow both of our economies."
0744 President Michael D Higgins has congratulated Obama:
"Dear Mr President
"I wish to extend my warmest congratulations on your re-election as President of the United States and to assure you of the continued goodwill and best wishes of the people of Ireland as you begin your second term.
"The international community faces many daunting challenges and we look forward to your continued leadership and constructive engagement in the period ahead.
"The very close and warm relationship between Ireland and the United States has, with your help and encouragement, prospered during your tenure.
I am confident that, under your leadership, our bilateral relations will be further advanced during the next four years.
"My wife Sabina and I send our warmest personal wishes to you and your family as you begin your second term."
0740 Florida's electoral votes are still undecided.
0639 US President Barack Obama has begun his victory speech on winning a second term.
Addressing a large crowd in Chicago, Illinois he said: "We are an American family and we rise and fall together as one nation, as one people.
"For the United States of America, the best is yet to come."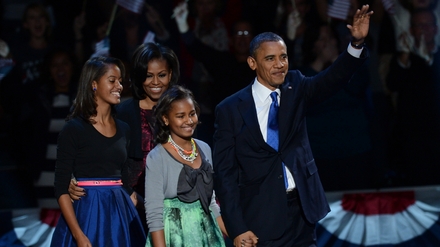 Mr Obama paid tribute to Romney. He said he looked forward to sitting down with Romney, to talk about how to move the country forward.
Obama thanked Joe Biden - "The best vice-president anyone could hope for."
"Michelle, I have never loved you more" he said, as he paid tribute to his wife.
"Democracy in nation of 300m can be noisy, messy and complicated," said Mr Obama.
"Despite all our differences, most of us share certain hopes for America's future."
"We are not as divided as our politics suggest. We are not red states or blue states, we are the United States of America" Obama says as he concludes his speech.
0630 British Prime Minister David Cameron took to Twitter to send "warm congratulations to my friend @BarackObama" after Mitt Romney conceded.
0602 WATCH LIVE: Morning Ireland is on air now, bringing all the latest on the US Election plus reaction.
0556 Mitt Romney has congratulated Barack Obama on his victory.
"This is a time of great challenges in America and I pray that the president will be successful in guiding our nation"
He also thanked his wife Ann, calling her the "love of my life".
"I believe in America, I believe in the people of America," he concluded.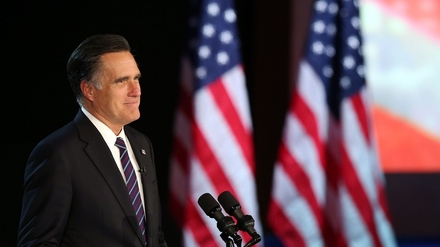 0549 Both CBS and NBC are reporting Romney will speak in the next few minutes.
0545 One CBS reporter says Mitt Romney has called Barack Obama to concede defeat.
0538 CBS projects Obama wins Virginia - up to 303 electoral votes compared to 203 for Romney.
0535 CBS is reporting that with 89% of votes counted in Virginia, Obama has 50% to Romney's 49%.
0533 Obama has just gone ahead for the first time in the popular vote - 49.532m to Romney's 49.497m.
0520 The CBS panel suggests that the reason Romney has yet to concede is because he is only now writing a concession speech (see 0029 update).
0509 48 minutes since he posted it, Barack Obama's 'Four more years' tweet is the most popular tweet of all time, having been retweeted over 311,000 times. The previous record was held by Justin Beiber.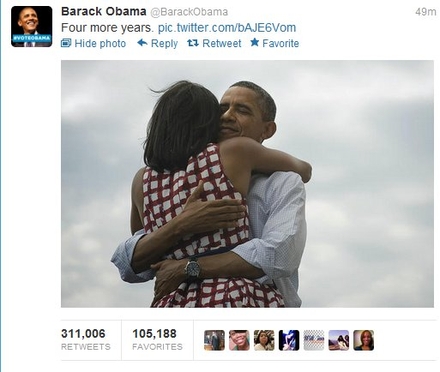 0502 Florida and Virginia are still too close to call, but they will not make a difference in the outcome of the presidential election.
0500 Romney reportedly not ready to concede yet.
0500 "I will spend the rest of my presidency honoring your support, and doing what I can to finish what we started. Today is the clearest proof yet that, against the odds, ordinary Americans can overcome powerful interests." - Barack Obama's message to supporters.
0456 There has been no immediate word from the Romney camp on the reported results.
0453 CBS has given Colorado to Obama, raising his electoral college total to 290.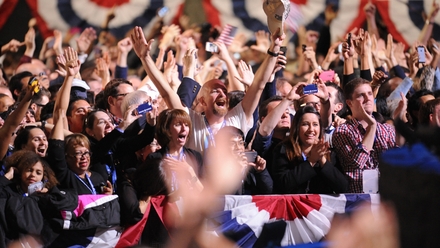 0451 CBS is reporting that Obama won 55/43 among women voters, 69/29 among Hispanics and 60/36 among young voters.
0447 CNN reports that with 91% of votes counted in Florida, Obama leads by 50% to 49%, or just over 47,000 votes.
0445 With 77% of the votes counted in Ohio, CNN has Obama and Romney tied 49-49 with only 1,500 votes between them.
0444 Inside Obama's Chicago campaign headquarters, staffers erupted into cheers and high fives as state after state was called for the president.
Mr Obama watched the returns on television at his Chicago home.
Senior campaign strategist David Axelrod said that he was feeling "great".
0440 CBS News is projecting Obama will take Nevada and its six electoral votes, he now leads 280 to 203.
0418 From Barack Obama's twitter account: "This happened because of you. Thank you."
"We're all in this together. That's how we campaigned, and that's who we are. Thank you."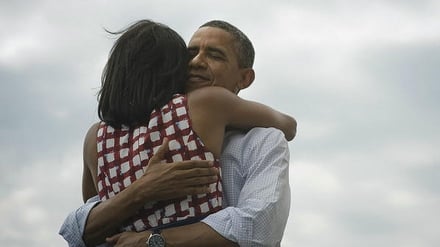 0416 CBS has said Barack Obama has been re-elected as US President.
0412 CNN has called Iowa for Obama.
0408 CNN projects Democrats to keep majority in US Senate.
0406 CBS News, CNN and Fox News have called the swing state of North Carolina for Romney. It went to Obama in 2008.
0401 CNN has called Idaho and Montana for Romney. It has called California (55 votes), Hawaii (4), and Washington (12) for Obama.
0356 "TVs at Romney election party have just switched to his RNC Bio Video" -from CBS News reporter Sarah Huisenga (@SarahH_CBSNJ).
It is described as: A video detailing how Mitt Romney came to be who he is through love and family, with stories recounting his marriage to wife Ann, raising their five children, and inspiration from his father George.
0352 Missouri, and its ten electoral votes, has been called for Romney.
0342 There are a number of medical marijuana ballot measures in Washington, Colorado, Massachusetts, Arkansas and Montana. Business Insider has the lowdown on how they're faring.
0340 "I am confident in saying that President Obama is going to carry the state of Florida tonight." - Former Presidential candidate Al Gore.
0337 NBC News has declared Romney as projected winner in Arizona.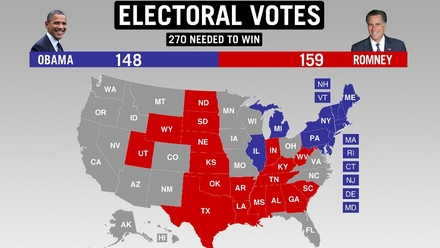 0332 With over 7.5m votes counted, Obama has opened up a lead of about 40,000 votes in Florida – leads 50%-49%.
0325 CBS News is reporting that with 55% of Ohio votes counted, Obama is on 51% compared to 48% for Romney. No Republican has ever become US President without winning Ohio.
0323 Republican Todd Akin, who caused considerable outrage with his comments on "legitimate rape", is projected to have lost in his attempt to win a Senate seat.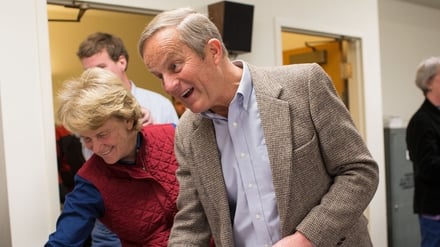 0320 So far, there are scenes of happy supporters in both Mitt Romney's Boston base and Obama's Chicago.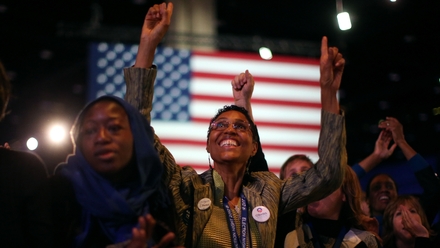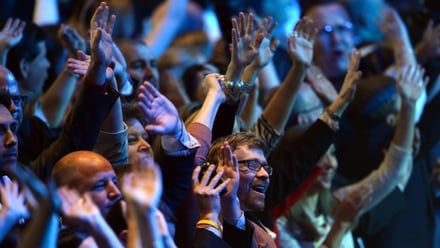 0317 CNN has said it is mathematically impossible for Republicans to retake the Senate.
0315 Appearing on Fox News, Sarah Palin has said she is "disappointed". She has crossed her fingers for Ohio.
0312 With 51% of votes counted in Colorado, Obama holds a two-point lead.
0300 CNN has called Utah for Mitt Romney. Exit polls have projected Obama will take Iowa and Nevada, Romney will take Montana.
0259 The turnout is so large in Iowa that they have run out of ballots in some polling stations. Ballots are being photocopied.
0249 While Romney is said to only have a victory speech written, Obama told a Denver television station he had speeches ready for either outcome. "You always have two speeches prepared because you can't take anything for granted."
0246 Obama has retaken a 50%-49% lead In Florida with 84% of the vote counted.
0241 "On The Wall, The Writing" - From the influential New York Times blog the FiveThirtyEight (@fivethirtyeight).
0236 CBS is reporting that Obama has won New Hampshire. The four votes put him ahead of Romney for the first time tonight.
0231 After over seven million votes counted in Florida, Romney leads Obama by 636 votes.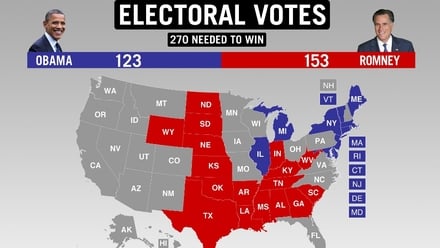 0229 The latest tweet from Mitt Romney's Twitter account: "With your help, we will turn our country around and get America back on the path to prosperity. Please vote today..."
The latest tweet from Barack Obama's official account was three hours ago: "If you're in line when the polls close, stay in line to vote. It could help make the difference.."
0228 Sky News and Fox News have projected that Obama wins the key swing state of Wisconsin.
0226 CNN has taken to lighting the Empire State Building in either Blue or Red to reflect Obama and Romney's current, projected electoral vote tally.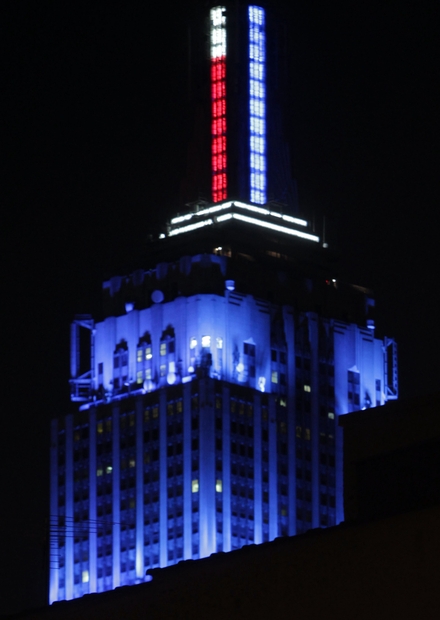 0223 The US embassy in Beijing has organised an election results event, where people can try out a mock polling station at a hotel.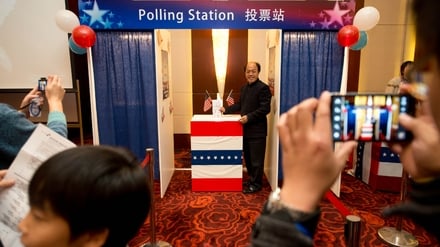 0219 Voting hours extended in Virginia, Ohio and Florida where large queues had formed.
0217 Fox News, MSNBC and Sky News among others call Pennsylvania for Obama.
0215 With 31% of the votes counted in Ohio, Obama has 54% of the votes compared to Romney's 45%.
0213 CNN reports that after 76% of votes counted in Florida, Romney is ahead by a tiny margin of 1,288.
0209 CNN has projected Republicans will keep control of the House of Representatives.
It has also projected that the key swing states of Wisconsin and Colorado are "leaning" to Obama.
0205 CBS is reporting that with 72% of votes counted in Florida, Obama is just 1% ahead of Romney.
0203 Mitt Romney will make what he says will be a winning speech at the Boston Convention & Exhibition Center.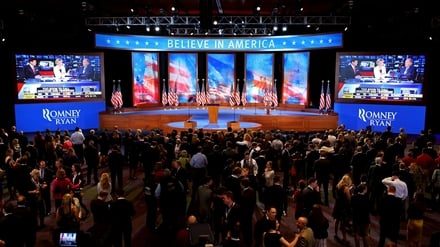 0202 CNN has called Kansas, Louisiana, Nebraska, North and South Dakota, Texas, Wyoming for Romney.
0201 CNN has called for Michigan and New York for Obama.
0153 There are reportedly queues of up to four hours to vote in Florida. The hashtag #StayInLine has been trending there.
0148 Some interesting figures coming out of Florida - With 61% of the votes counted, Obama leads 50% to Romney's 49%.
0144 "Election Day is almost over. This is it. We won't get another chance tomorrow." - Barack Obama makes a last-minute plea to voters.
0143 President Barack Obama will make his election night speech in McCormick Place in Chicago.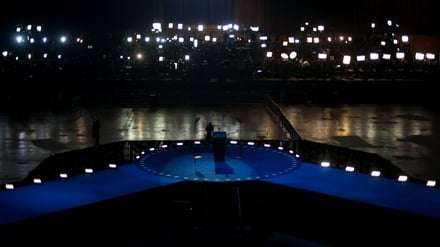 0132 With 20% of the votes counted in Ohio, Barack Obama is beating Mitt Romney by 58% to 40%.
0130 CNN projects Romney has taken Arkansas with its six electoral votes.
0123 Barack Obama has gone to 1/20 with bookmaker Paddy Power to retain his presidency.
0115 With 54% of the vote counted in Florida counted Romney now leads Obama 50% to 49% according to CNN.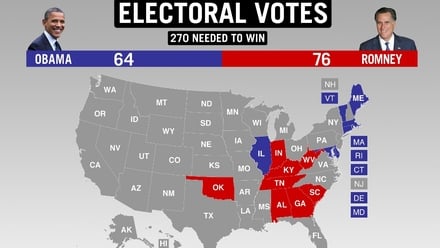 0106 Current electoral vote estimates from CBS have Obama at 64 votes to Romney's 82.
0104 CNN poll has given Oklahoma (7 electoral votes) to Romney, while CBS says Romney has taken Tennessee (11), Alabama (9), Mississippi (6).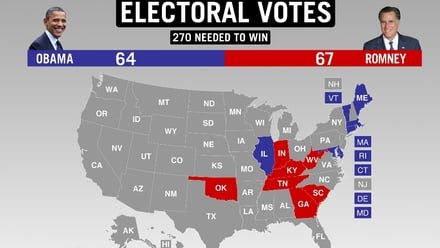 0103 CNN exit polls have Obama shading New Hampshire, New Jersey and Pennsylvania.
0101 CNN exit polls show eight states for Obama – Connecticut, Delaware, Dist of Columbia (Washington DC), Illinois, Maryland, Massachusetts, Maine, Rhode Island.
0059 The Reuters/IPSOS exit poll shows Romney trailing Obama among all other ethnic groups by large margins.
0058 Romney wins Georgia according to Bloomberg, it has the current electoral vote estimates at: Mitt Romney 49, Barack Obama three. CNN has also given Georgia to Romney.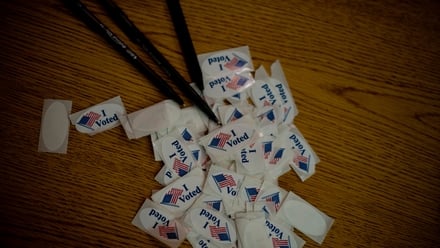 0057 The Reuters/IPSOS exit poll shows Romney winning white male votes by 20 points. Romney is also winning among white women by more than ten points.
0056 16 states will close within the in five minutes with a total of 172 electoral votes up for grabs.
0054 About 60% of early voters in Ohio chose Obama, while more than half of Ohioans voting on election day supported Romney, according to the latest Reuters/Ipsos exit poll.
Ohio is among a handful of states that could swing to either candidate in the presidential election.
0050 With 35% of the votes in Florida counted, Barack Obama holds a four-point lead.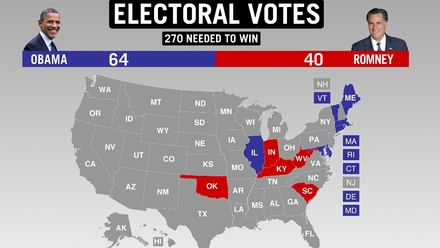 0045 US electoral vote count estimates so far: Mitt Romney 33, Barack Obama three
0042 With 28% counted in Florida, Obama retains a three point lead (51-48) on Romney.
0039 BBC and ABC have called South Carolina for Romney.
0036 North Carolina is tied at 49% each according exit polls.
0033 CNN is reporting that with a quarter of votes counted in Florida, Obama is 4% ahead of Romney.
0032 CNN Calls West Virginia for Romney, while an exit poll shows Obama leads Romney in Ohio by 51% to 48%.
0029 Mitt Romney says he finished writing his victory speech and has not written a possible consession speech.
0026 So far, CBS projects Obama with three electoral votes (Vermont), and Romney with 19 (Kentucky and Indiana)
0025 First-time US voters are supporting President Barack Obama by a two-to-one margin and are more likely to believe the country is on the right track, according to a Reuters/Ipsos exit poll conducted on election day.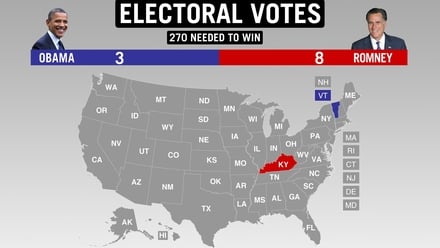 Nearly two in 10 new voters said that jobs are their No 1 priority, compared with one in 10 among those who have voted in the past.
In the swing state of Ohio, about two-thirds of early voters chose Obama while the same proportion chose Romney on election day, according to the exit poll. Low-income voters in Ohio chose Obama by a two-to-one margin.
0020 With only 5% of the votes counted in Florida, Obama and Romney are tied at 50%.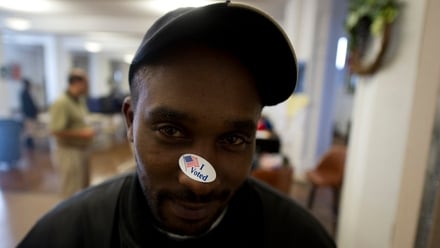 0012 RTÉ's Fergal Keane says close analysis of Virginia shows Romney could shade it there.
0005 CNN projects Romney wins Kentucky in presidential race, and Obama will take Vermont.
In Virginia, an exit poll shows a tie of 49% to 49%.