US President Barack Obama has warned that Superstorm Sandy is far from over, as the cyclone moves northwards after battering the country's east coast.
Up to 30 people are now reported to have been killed across several US states and the death toll is expected to rise.
Widespread flooding and strong winds have left eight million homes and businesses without power, while one million people still remain subject to evacuation orders.
It is estimated losses from the storm could ultimately reach $2bn.
As transport workers begin to assess the damage, it is becoming increasingly clear that restoring systems could take some time.
The three major New York area airports, which serve the country's busiest airspace, remained closed today, and officials said they had no estimate for when the airports would reopen.
Nearly 16,000 flights have been cancelled since Sunday as a result of the storm, including 7,791 cancelled on Monday, 6,047 on Tuesday and 635 so far for Wednesday, according to flight tracking service FlightAware.com.
Airlines said they planned to restart service today at some East Coast airports, including Boston and Philadelphia. Both Dulles and Reagan National in Washington, DC, were open during the storm and airlines are starting to bring personnel and planes back.
Sandy, which crashed ashore with hurricane-force winds on Monday near the New Jersey gambling resort of Atlantic City as the biggest storm to hit the country in generations, swamped parts of New York's subway system and Manhattan's Wall Street district, closing financial markets for a second day.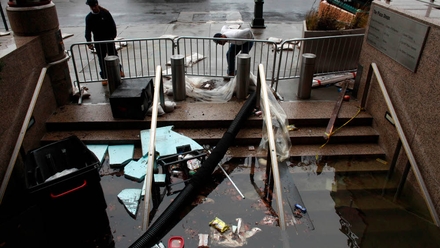 Businesses and homes along the New Jersey shore were wrecked and communities were submerged under floodwater across a large area. More than eight million homes and businesses in several states were without electricity as trees toppled by Sandy's fierce winds took down power lines.
Some cities like Washington and Boston that felt some of the effects of Sandy were spared widespread devastation and appeared ready to return to nearly normal conditions by tomorrow. But other places like New York City and large parts of New Jersey were hit especially hard and likely will require at least several days to get back on their feet.
"The devastation is unthinkable," New Jersey Governor Chris Christie said after seeing aerial pictures of the New Jersey shore.
A large blaze destroyed more than 50 homes in the New York City borough of Queens as flooding hampered firefighting efforts. Neighbourhoods along the East and Hudson rivers in Manhattan were underwater, as were low-lying streets in Battery Park near Ground Zero, where the World Trade Centre once stood.
The storm interrupted the US presidential campaign just a week before the 6 November election.
Seeking to show he was staying on top of a storm situation that affected a densely populated region, the White House said Obama planned to tour damaged areas of New Jersey on Wednesday accompanied by Christie.
The New Jersey governor, who has been a strong supporter of Republican presidential challenger Mitt Romney, praised Mr Obama and the federal government's response to the storm.
"New Jersey, New York in particular have been pounded by this storm. Connecticut has taken a big hit," Obama said during a visit to Red Cross headquarters in Washington.
The president issued federal emergency decrees for New York and New Jersey, declaring that "major disasters" existed in both states. One disaster-forecasting company predicted economic losses could ultimately reach $20bn, only half insured.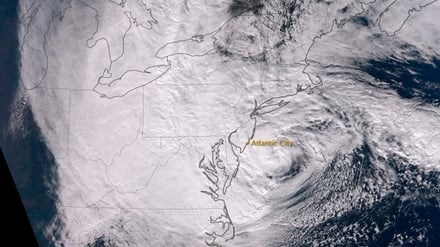 "Make no mistake about it. This was a devastating storm, maybe the worst we have ever experienced," New York City Mayor Michael Bloomberg said.
The death toll continued to rise, with reports of at least 30 people killed, at least 10 of them in New York City alone.
Storm-related deaths were reported elsewhere in New York state in addition to Massachusetts, Maryland, Connecticut, New Jersey, Pennsylvania, Virginia and West Virginia. Toronto police also recorded one death - a woman hit by flying debris.
Sandy killed 69 people in the Caribbean last week before pounding US coastal areas.