Tropical Storm Isaac strengthened into a hurricane just off the US Gulf Coast tonight, lashing the New Orleans area with strong winds and heavy rain seven years after the city was devastated by Hurricane Katrina.
Isaac's storm surge could pose a major test of New Orleans' new flood control systems and reinforced levees.
Forecasts from the US National Hurricane Center showed the storm coming ashore in the Mississippi Delta late on Tuesday, possibly taking direct aim at the so-called Crescent City.
"Isaac has finally formed into a hurricane, so we are officially in the fight and the city of New Orleans is on the front lines," New Orleans Mayor Mitch Landrieu told reporters.
"Citizens have to be prepared. I'm going to ask you to hunker down," Landrieu said, as hundreds of US Army National Guard troops took up strategic positions around New Orleans.
Brandishing automatic assault rifles to ward off any threat of looting, the troops in military vehicles took up positions on mostly deserted streets.
Their arrival came as driving rain and stiff winds began battering the city's iconic French Quarter and its boarded-up storefronts.
Earlier, the Army Corps of Engineers closed for the first time the massive new floodgate on the largest storm-surge barrier in the world, at Lake Borgne, east of New Orleans.
The US President Barack Obama warned residents of the Gulf Coast that there could be significant flooding.
He encouraged people to evacuate if instructed by authorities to do so.
"Now is not the time to tempt fate, now is not the time to dismiss official warnings. You need to take this seriously," he said.
The governors of Louisiana, Mississippi and Alabama have declared states of emergency as they prepare for Isaac.
Mandatory evacuation orders went into effect for residents of several low-lying districts, including about 8,000 to 10,000 residents of Mobile, Alabama, as well as nearby Dauphin Island.
The hurricane could take direct aim at New Orleans, which is still struggling to fully recover from Hurricane Katrina.
Hurricane Katrina swept across the city on 29 August 2005, killing more than 1,800 people and causing billions of dollars of damage along the coast.
Energy producers in the Gulf of Mexico shut down some of their operations ahead of what could be the biggest test for US energy installations since 2008.
Hurricanes Gustav and Ike in 2008 disrupted offshore oil output for months and damaged onshore natural gas processing plants, pipelines and some refineries.
The ports of Mobile and New Orleans were closed and barge traffic was suspended along southern portions of the Mississippi River.
In New Orleans, which is below sea level, long lines formed at some gas stations.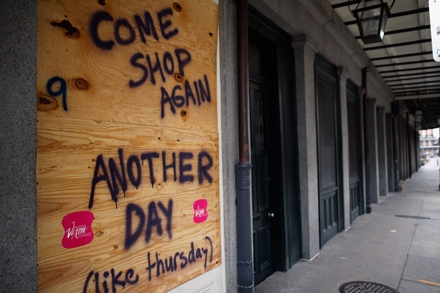 Skies over the city were grey and a stiff breeze signalled the approaching storm.
Along Canal Street in the city's historic French Quarter, crews were boarding up storefront windows.
Business owners boarded up their shop fronts and deployed sand bags on Bourbon street as tourists, many stranded due to cancelled flights, prepared to weather the storm.
A bumper-to-bumper stream of vehicles left the city on a highway toward Baton Rouge in search of higher ground. Others prepared, or were forced, to ride the storm out.
President Obama has asked the Federal Emergency Management Agency (FEMA) to coordinate disaster relief efforts with state and local officials along the Gulf Coast.
FEMA has placed incident-response teams at emergency operations centres and has moved two support teams near areas where the storm could hit.
More teams also are ready to be deployed if necessary, the White House said.
Meanwhile, the Department of Foreign Affairs has advised Irish tourists to monitor local radio and television weather reports and follow the advice of local authorities.
It also said airlines have warned that flight cancellations and delays may be expected over the next few days, especially at Gulf Coast airports.
At least 22 people were killed when Isaac caused significant flooding and damage in Haiti and the Dominican Republic before skirting the southern tip of Florida on Sunday.