The HSE's Chief Executive has said the acute hospital sector is over budget for the current year, and the break-even plan will have a very significant impact on the second half of the year.
Speaking at the Dáil Public Accounts Committee, Cathal Magee said the HSE had been in discussion with the Department of Health around options dealing with costs.
He said savings on drugs provisioned for this year at €124m had not come through because of delays in a new pricing agreement with the pharmaceutical industry.
At the same time, there were new drugs being used for which there was no budget provision.
He said 16-17% of the HSE's total budget was accounted for by drugs. This compared to 9% in the United Kingdom.
Meanwhile, €140m in additional income had not come through, of which €75m was supposed to come for charging private patients.
He said there was a big lump sum in February arising from the staff exit scheme, which was not budgeted for.
Earlier, Mr Magee said there were 90,000 employed in the HSE in 2001, compared to 102,000 in 2012.
The current number represented a reduction of almost 10,000, compared to when employment in the HSE peaked in 2007.
He also noted it was a period of large population growth in the country.
Up to 2007, Mr Magee said 7,500 new nurses were employed, 2,000 additional doctors and 6,500 therapists, with many in this grouping deployed in the area of disability services.
The therapy services, he said, had suffered underinvestment.
The number in administration grew by more than 3,000.
Mr Magee said staffing in the HSE is now back to 2005/2006 levels.
He added that 83% of the total pay bill of €5.28bn went on basic pay and employer PRSI.
Overtime costs accounted for 4% of the total of which 61% was spent on doctors.
The PAC heard that the number of delayed discharge patients within the acute hospital system had fallen from 975 to 664.
Reasons for delayed discharge included waiting for a bed in a nursing home, waiting for a rehabilitation bed or waiting for adaptations to their homes to be completed.
National Director of Integrated Services Laverne McGuinness said there was an absence of nursing home beds in north Dublin.
She also said that some of the money categorised for Fair Deal will are being set aside to provide for short-term rehab and convalescent care for periods of up to six to eight weeks.
Hospital overcrowding 'a human rights issue'
Elsewhere, a top Irish consultant has told an international conference on emergency medicine taking place in Dublin that overcrowding in hospital emergency departments is a human rights issue.
Dr Peadar Gilligan, emergency medicine consultant at Beaumont Hospital, said that overcrowding is predictable and causes patients distress, makes them feel undignified and they believe it compromises their confidentiality.
He said Ireland did not have enough acute beds and while there has been some improvement in the overcrowding problem everyone needed to realise how bad it is.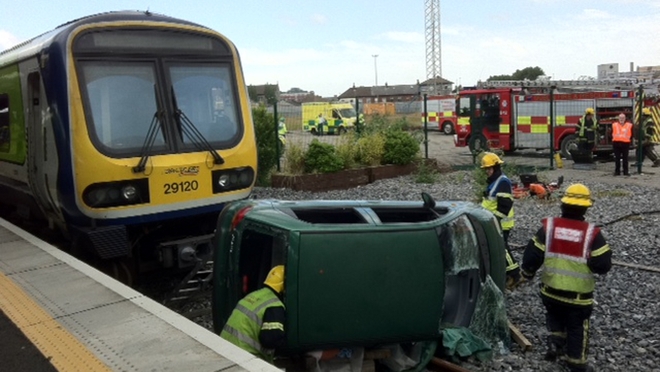 A mock emergency was staged for the conference
Irish Association for Emergency Medicine President Mark Doyle said overcrowding was not unique to Ireland and many developed countries are dealing with it.
However, he warned that due to demographic changes, emergency departments in the future will see more attendances by people aged 90 or 100 years of age with more complex conditions needing admission.
Around 2,000 delegates from 59 countries are attending the four-day conference of the International Federation for Emergency Medicine.