The Constituency Commission has proposed sweeping changes to Dáil boundaries and a reduction in the number of TDs from 166 to 158.
Its report recommends that the electoral map be made up of 40 constituencies, down from 43.
11 five-seat areas are urged, with 16 constituencies to have four seats and 13 constituencies to have three seats.
Only eight existing constituencies will remain unchanged: Carlow/Kilkenny, Clare, Longford/Westmeath, Louth, Meath East, Meath West, Wexford and Wicklow.
In the capital, a new constituency of Dublin Bay North will merge Dublin North East and Dublin North Central.
For reasons of symmetry, the Commission said it proposed the renaming of Dublin South East as Dublin Bay South.
Dublin North gains 26,000 voters and becomes Dublin Fingal.
Dublin West loses 17,000 voters but gains 13,000 from Dublin Central to remain a four-seat constituency.
Dún Laoghaire Rathdown is to be divided into the four-seat Dún Laoghaire, which is to gain 13,000 voters from Dublin South, and the three-seat Dublin Rathdown.
Cork North Central and Cork South Central will become four-seat constituencies, while Cork North West is to have three seats.
It advises that Sligo and Leitrim, along with some of south Donegal and west Cavan, should make up a four-seat constituency called Sligo Leitrim.
The rest of Donegal will become a single five-seat constituency under the proposals.
The remainder of Cavan will combine with Monaghan to create a four-seat area.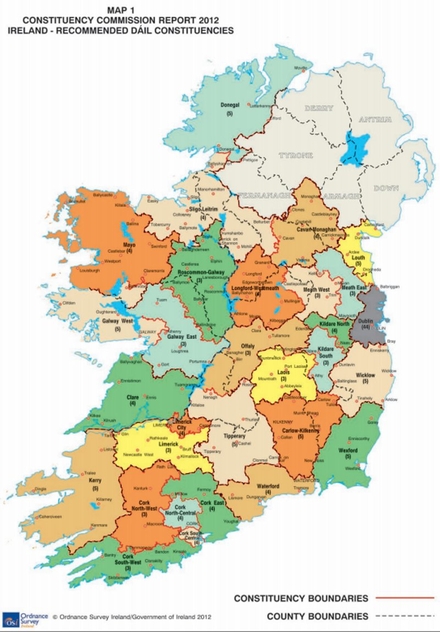 The Commission recommends that Galway West, combined with some of South Mayo, is to remain a five-seat constituency.
The rest of Mayo will lose a seat to make up a four-seat area.
Roscommon and some of East Galway will make up Roscommon-Galway with three seats.
The rest of Galway East will become a three-seat constituency.
Kerry will be a single five-seat area.
It recommends that the county of Limerick be represented by a four-seat Limerick City and a three-seat Limerick County constituency.
The county of Waterford will make up a four-seat constituency.
Offaly and some of northwest Tipperary will be a three-seat constituency. The rest of Tipperary would be a five-seat area.
Laois and some of Kildare will make up a three-seat constituency and the rest of Kildare will be divided into one three-seat and one four-seat area.
Taoiseach Enda Kenny has said that he expects the report will be implemented during the term of the current Government.
Mayo Fine Gael TD Michael Ring has said he is disappointed that the commission has recommended that Mayo become a four-seater.
However, speaking on RTÉ's News at One, Mr Ring said he is "more disappointed" that south Mayo could become part of the West Galway constituency.
There are currently four sitting Fine Gael TDs in Mayo and one Fianna Fáil TD.
Mr Ring has said there is "no way" that the party can win four from four in the next election.
Fianna Fáil has said the recommendations do not constitute real political reform.
Michael McGrath said what was needed was reform of the Dáil to allow it to hold the Government to account and to give Oireachtas committees "real teeth".
Asked about his own constituency of Cork South Central, which has lost one seat to make it a four-seater, Mr McGrath acknowledged that the change made things difficult for everyone.
Fianna Fáil's Dara Calleary asked Tánaiste Eamon Gilmore in the Dáil if the Government accepted the findings of the report and whether any legislative changes would arise from it.
Mr Gilmore said that the findings of the report were normally agreed to by the Government but that it had not had time to study it.
He said that debate on the findings would be done through the introduction of the Bill and there would not be an advance debate on it.
Sinn Féin's environment spokesperson Brian Stanley said reducing the number of TDs restricts representation, consolidates power around larger parties and further restricts minority views.
He said the reduction of eight seats comes despite an increase in the population of 8.2% over five years shown in Census 2011.