Greece's two main pro-bailout parties secured enough votes to form a government in today's election, early results showed, easing fears the country will crash out of the euro.
"Today the Greek people expressed their will to stay anchored with the euro," said Antonis Samaras, the leader of the conservative New Democracy party.
Preliminary official results showed his party in the lead with 29.5%.
"We ask all political forces which share the aim of keeping the country in the euro... to join a government of national unity," he said.
Mr Samaras also pledged to honour Greece's commitments under an unpopular bailout deal which has imposed harsh austerity on many Greeks in return for a multi-billion package that has kept the Greek economy on life support.
His main rival Alexis Tsipras, leader of the radical leftist anti-austerity party Syriza, conceded defeat but vowed to fight on in opposition.
"I spoke to Samaras to congratulate him. He can form a government," said Mr Tsipras, whose party came second with 27.1% of the vote.
"We will be here as the opposition, we represent a majority of people opposed to the bailout deal," he said.
The results appeared to heed an unprecedented warning on the eve of the vote from German Chancellor Angela Merkel who said it was "extremely important" that Greeks choose lawmakers who would abide by the terms of the bailout.
Eurogroup chief Jean-Claude Juncker warned that a victory for the radical left would have "unpredictable consequences" for the eurozone as a whole.
New Democracy would hold 128 seats in Greece's 300-seat parliament because of a 50-seat boost for the victor under the Greek system, early results showed.
Coalition talks are now expected to start tomorrow, with the most likely ally being the socialist Pasok party, which won an estimated 33 seats.
Pasok leader Evangelos Venizelos said he was ready to join a coalition with New Democracy but only on condition that other leftist parties were included.
Mr Venizelos said the new government should be one of "national responsibility."
Analysts say Pasok is concerned about instability if a narrow majority is called on to pass unpopular reforms under pressure from street protests.
Costis Hadzidakis, a senior New Democracy official, said on Skai TV: "There needs to be a government. The country cannot remain directionless."
"This government has to be a national team with as big a majority as possible. What else has to happen for us to realise this?" he said.
Exit polls had shown a dead heat between New Democracy and Syriza which could have left Greece in the political gridlock between bickering parties which followed elections last month and triggered this vote just six weeks later.
Initial results also showed neo-Nazi party Golden Dawn has won enough votes to enter parliament on the back of growing anti-immigrant sentiment and concern about security which has accompanied the economic crisis.
"I think that most people are anxious because the future is very dark," Tonia Katerini, a 54-year-old architect, told AFP after voting for Syriza in an elementary school in the upmarket Kolonaki district in central Athens.
"The situation in the last two years has been very hard for most people so I believe we have to make a big change," she said.
But Emmanuel Kamkoutis, a 68-year-old pensioner, said he voted for the right because he wanted "a pro-European government and not a communist one."
"We signed something. We can't just take it back," he said, referring to the bailout deal. "We have to try very hard to keep ourselves in the euro."
Greek newspapers said the vote was the most critical since the end of military rule in 1974.
Hand grenades found outside Greek TV station
Greek police have said two grenades have been found outside the offices of prominent private media group Skai.
The group's offices near the port of Piraeus were evacuated but there was no explosion.
"Somebody is trying to disturb the holding of the election but this effort will fail," said government spokesman Dimitris Tsiodras.
"Democracy cannot be terrorised," he added.
A police statement said the two grenades would be examined by bomb experts, and that the investigation would be conducted by the Greek anti-terrorism squad.
A Skai employee initially said the first grenade had been lobbed into the building's outer yard.
News reports later said that the media group, which supports tough austerity reforms, had received a threatening phone call early this morning that made reference to two grenades being placed outside the building.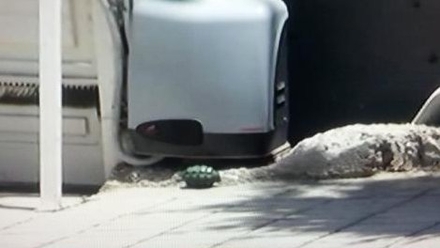 Pic: @northaura