Irish voters have backed the fiscal treaty by a large majority - with 60.3% voting Yes and 39.7% voting No.
In what was Europe's only referendum on the treaty, only five of the 43 constituencies rejected it.
The constituencies that voted No were Donegal North East, Donegal South West, Dublin North West, Dublin South Central and Dublin South West.
Yes campaigners described the result as a decisive step toward recovery. Those who campaigned on the No side have called on the Government to deliver on its promises for growth and jobs.
But both the Taoiseach and the Tánaiste insisted they would use the result to strengthen their hand in talks on the bank debt - Enda Kenny confirmed he had already raised the issue with German Chancellor Angela Merkel this evening.
There was a fall in the yield on Irish two-year bonds in reaction to the Yes vote, but financial and equity markets were more focused on Spain, Greece and a poor set of employment figures from the United States.
The euro fell further against the dollar, dropping to just over $1.22 - a two-year low.
The substantial backing for the fiscal treaty in Ireland has been warmly welcomed in Brussels.
The No side had argued strongly that passing the fiscal treaty would place Ireland in an economic straight-jacket that would be detrimental to the urgent need to create jobs.
However in Brussels, the business lobby disagreed and both the President of the European Commission and the President of the European Parliament congratulated the Irish electorate "on their clear statement in the referendum."
While Ireland may have now passed the treaty, it will not come into force until a total of 12 countries ratify it.
Updates:
1856 Sinn Féin's Mary Lou McDonald said she has seen very little evidence that this Government is able or willing to play the hands, as they are given to them, by the electorate.
Speaking on RTÉ's Six One, Ms McDonald said that the Yes vote would strengthen the hand of the Government in negotiating a deal at EU level on bank debt.
She said that "a strong hand is only good when you are willing to play it", and that the Government had "a strong hand" on previous occasions and had blown it.
1853 Tánaiste Eamon Gilmore said the Yes vote has strengthened the hand of the Irish Government in relation to securing a deal on bank debt.
Speaking on RTÉ's Six One News, Mr Gilmore said the Government has already been taking to EU institutions about doing a deal on bank debt.
He said that both he and the Taoiseach had been on the phone with European leaders and that the Government wants to move to progress on a growth agenda at EU level, as well as securing agreement on bank debt.
1830 All 27 EU members have signed up to the treaty, with the exception of Britain and the Czech Republic.
Denmark today became the fifth country to ratify the pact after Romania, Portugal, Greece and Slovenia.
Mr Kenny said that the Irish Government will now begin the process of ratifying the pact in parliament next week.
1720 Some interesting facts from David McCullagh and UCD's James MacBride:
On average, the No vote was six points higher in constituencies with a Sinn Féin TD - but on average the Yes vote was slightly above average in those constituencies with a ULA TD.
In the 14 constituencies with a Sinn Féin Deputy, the average Yes vote was 54%, six points below the national average.
But in the five constituencies with a ULA TD, the average Yes vote was 61%, almost 1% above the national average.
Part of the reason for this is that one of the constituencies represented by the ULA, Dún Laoghaire, had the second highest Yes vote in the country.
Of course, these statistics do not answer the question of whether a constituency had a higher No vote because of the presence of a Sinn Féin TD, or whether a Sinn Féin TD was more likely to be elected in a constituency with a higher No vote.
The final picture: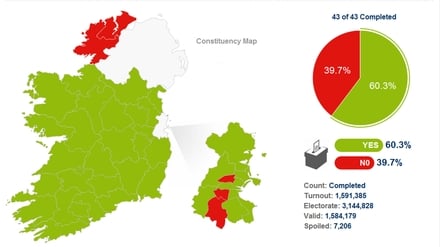 1701 UK Independence Party leader Nigel Farage said today's vote amounted to Ireland giving up its own independence.
"The Irish political class has continued to persuade the people of Ireland to give up their hard-fought and short-lived independence," he said.
1640 Minister for Transport Leo Varadkar said his reaction to the referendum result was more a sigh of relief than celebration.
He said the Yes vote means "we can fund the country into the next few years", adding that if there was a No vote we would have had to look at other contingencies.
He said that there would be "another few tough budgets" but that there is now some certainty about the path ahead.
1636 Enda Kenny said he specifically raised the issue of bank debt with German Chancellor Angela Merkel and French President François Hollande.
1634 Eamon Gilmore: ''We all want this country to recover. For jobs to be created. For a better, more hopeful future for all of our people.
''We will take this result today, not just as the passing of the Treaty itself, but as a call to redouble our efforts as a Government to work for recovery, and fresh hope.''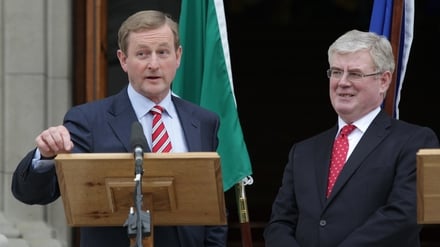 1631 Enda Kenny: asked about his refusal to hold a debate with Sinn Féin: "There has never been a tradition of debates on referenda in this country ... I've spoken to leaders more powerful than Mr Adams and his party this afternoon."
1629 Enda Kenny: "It is a decisive result for the people - this was not a result for the government or any political party.
"It's the voice of the people ... there are always local issues that impact on the decisions made by the people."
1624 Enda Kenny: "I want this country and the Irish people to be winners of Europe ... Today has been a good day's work for all of us
"The decision was not an easy one … and I commend deeply and thank the irish people for their pragmatism"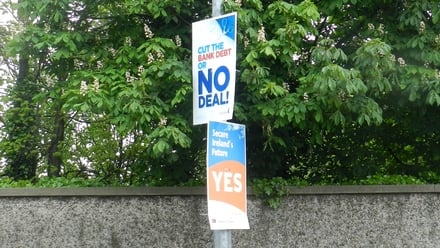 1619 LIVE NOW - Kenny, Gilmore press conference (See player at top of page)
1624 Watch the announcement of the final result here
1618 Green Party Leader Eamon Ryan said that many people may have voted Yes out of fear, but '''it was also a statement that we as a people will be able to play our part in managing this crisis.''
1617 Fianna Fáil's Micheál Martin said the result shows that the Irish people want the EU to take a lead in sorting out the biggest economic crisis since the last World War.
He said his party refused to use the referendum for short-term political gain and that he's very happy that their members, supporters and the general public responded in such numbers to that approach.
1614 Tánaiste Eamon Gilmore: ''This Government has already been working on a plan to stimulate our own economy, and we were among the first member states to make the case for a growth strategy in Europe. That strategy must now be progressed.''
1606: Sinn Féin's Gerry Adams said French President Francois Hollande had shown the Government the way in terms of demanding stimuli for growth and jobs.
He said he hoped the Government would follow that way.
1604: Declan Ganley of Libertas has said that the Government must now deliver on all their growth and jobs promises.
He warned that Ireland has transferred fiscal sovereignty today - which the country will never get back - to an entity that is above the law.
He said he hopes our partners in Europe will not look at this vote and interpret it as meaning that Ireland is happy with the status quo.
1601: Fianna Fáil TD Timmy Dooley has said that the referendum result is not the end but the beginning. He said it was the beginning of the task of dealing with the situation in Europe.
He said Ireland had stepped up to the mark and now it was time for Germany to make some movements towards us.
1559: Minister for Social Protection Joan Burton said this strong vote of confidence in Ireland's future will be seen as such by important investors.
Speaking on RTÉ One, she said people voted Yes with a heavy heart and voted No with a heavy hearty, but everyone cared about growth and employment.
1555: In a statement the United Left Alliance has said people were bullied into voting yes.
The political grouping said a huge number of people voted against the treaty and they had sent a message that they have had enough of austerity.
The ULA said it would continue to campaign against austerity and was confident that resistance to cuts would deepen in the next few months across Ireland and Europe.
1549: David McCullagh: Just five of the 43 constituencies voted No. The highest vote against the treaty was in Donegal North East, at 56%, followed by Donegal South West, Dublin North West, Dublin South Central and Dublin South West.
The closest result in the country was in Dublin Mid-West, where the Yes vote won by a margin of just five votes.
The highest Yes vote in the country was in Dublin South, despite some speculation that Independent TD Shane Ross's call for a No vote might reduce support for the treaty there.
1542 For the record, here are the final two results.
Laois-Offaly Result: Yes 59.64% No 40.36%
Carlow-Kilkenny Result: Yes 63.29% No 36.71%
1536 Referendum in Numbers:
Electorate: 3,144,828; National Turnout: 1,591,385; Spoiled: 7,206; Valid Poll: 1,584,179; Yes: 60.29% (955,091); No: 39.71% (629,088)
1534 Turnout was 50.60%
1529 NATIONAL RESULT: YES 60.3% (955,091), NO 39.7% (629,088)
1519 Minister for Justice Alan Shatter: ''I am delighted with the referendum results which is a further step along the road to recovery. I am particularly pleased that Dublin South had the highest Yes vote in the country.''
1516 Watch the press conference by Taoiseach Enda Kenny and Tánaiste Eamon Gilmore live here from 4pm.
1513 @ciaranmullooly: ''Laois Offaly count staff head home as Returning officer waits permission to announce result!!!''
1507 @ciaranmullooly: ''Laois Offaly count on track to claim last declaration title again in Ireland's largest constituency''
1504 MEP Marian Harkin has said the Yes vote represents the buying of time for Ireland to secure vitally necessary concessions including a deal on promissory notes.
1500 Wicklow Result: Yes 60.88% No 39.12%
1455 Fianna Fáil TD Éamon Ó Cuív, who was warned by his party leadership not to campaign against the treaty, was the only one of the five Galway West TDs not to attend at the Galway West count centre in Salthill.
Despite Deputy Ó Cuív's stance on the treaty, constituents in his heartland voted in favour of it.
1447 National result after 40 constituencies: Yes 60.2% 39.8%
1441 Waiting for three - Carlow-Kilkenny, Wicklow, Laois-Offaly
1440 Cork South West Result: Yes 66.27% No 33.73%
1439 Cork North West Result: Yes 65.59% No 34.41%
1439 Just waiting for results from five constituencies now.
1437 Cork East Result: Yes 60.52% No 39.48%
1436 Wexford Result: Yes 57.81% No 42.19%
1435 Longford-Westmeath Result: Yes 60.30% No 39.70%
1434 Sinn Féin Deputy Leader Mary Lou McDonald has said the Government set the bar very high in its campaign for a Yes vote.
"The Minister for Finance and others are on the record as saying that in the event of a Yes vote, that there will be an easier Budget come next December," said Ms McDonald.
"We want to see that happen. We want to see those who have taken the rough edge of austerity and cutbacks protected. Their lives, their standard of living protected and their communities protected."
Ms McDonald also accused Labour Leader Mr Gilmore of being on the wrong side of the debate and at odds with most of the trade union movement.
1430 Dublin North West Result: No 53.24% Yes 46.76%
1430 Galway West Result: Yes 57.91% No 42.09%
1429 Louth Result: Yes 52.75% No 47.25%
1426 Damien Tiernan: Tallies show three towns of Carlow, Tullow and Bagenalstown have returned a substantial No vote, while rural areas in Carlow are voting Yes.
1420 Just waiting on results from 11 constituencies now.
1418 IFA President John Bryan has welcomed the strong Yes vote and thanked farm families and rural communities throughout the country.
"From the earliest point in the campaign, IFA identified the importance of securing a positive result for a stable euro, exports, jobs and growth. These are vital, not just for the farming and food sector, but for the country as a whole. I am pleased that rural Ireland also recognised this as one element in our pursuit of economic recovery."
1417 With results from 32 constituencies in, just four - Dublin South West, Dublin South Central, Donegal North East, Donegal South West - have voted No.
1416 Dublin South Central Result: No 50.90% Yes 49.10%
1414 Mayo Result: Yes 67.24% No 32.76%
1413 Meath West Result: Yes 56.58% No 43.42%
1410 Roscommon South Leitrim Result: Yes 60.75% No 39.25%
1405 Meath East Result: Yes 62.64% No 37.36%
1403 Cavan Monaghan Result: Yes 57.58% No 42.42%
1400 Dublin North East Result: Yes 58.00% No 42.00%
1353 Kildare South Result: Yes 58.36% No 41.64%
1351 Dublin South Result: Yes 75.84% No 24.16%
A look at the national picture, with 29 results in: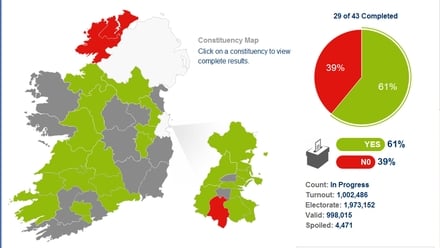 1349 Tánaiste Eamon Gilmore has told News at One that people are frustrated with the pace of recovery and have made clear that they are under pressure when it came to their jobs, their businesses and their standard of living.
"The Government has to move in four key areas; it must proceed with its plan to stimulate the economy and create jobs; it must proceed with a growth agenda at EU level; it must address the issue of mortgages and get a deal on bank debt."
1348 Sinn Féin's Mary Lou McDonald at the count centre in Dublin a short time ago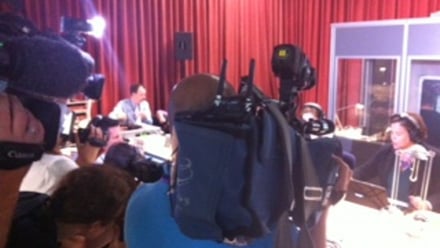 1344 Dublin North Result: Yes 60.43% No 39.57%
1344 Dublin North Central Result: Yes 62.28% No 37.72%
1343 Limerick Result: Yes 66.10% No 33.90%
1342 Kerry North-West Limerick Result: Yes 60.95% No 39.05%
1341 Tipperary North Result: Yes 65.58% No 34.42%
1339 Keep up-to-date on the latest results via Twitter: Follow @RTE_Referendum
1337 Dún Laoghaire Result: Yes 74.21% No 25.79%
1336 Fianna Fáil's Michael Mc Grath says he believes that those who voted Yes were opting for the safer choice.
Speaking on the News at One, Deputy Mc Grath said many voters who supported the treaty did so reluctantly.
"Many people who voted No did so because they are annoyed with government, annoyed with politics and annoyed with broken promises."
1335 Sligo-North Leitrim Result: Yes 60.32% No 39.68%
1333 Clare Result: Yes 65.73% No 34.27%
1330 Kerry South Result: Yes 64.67% No 35.33%
1328 Dublin Central Result: Yes 53.53% No 46.47%
1325 Donegal North East Result: No 55.63% Yes 44.37%
1324 With 12 of the 43 constituencies completed, the national result stands at Yes 57.9%, No 42.1%
1321 Television coverage of the count resumes on RTÉ One at 1.30pm, which you can watch in the player above.
1320 Cork North Central Result: Yes 52.00% No 48.00%
1318 Fine Gael TD Tom Hayes said the Tipperary South result was a decisive Yes vote - "the negativity being peddled by Sinn Féin and the United Left Alliance affiliate, the Workers Unemployment Action Group was ignored by the electorate."
1314 Cork South Central Result: Yes 62.17% No 37.83%
1312 David McCullagh: Sharp divisions have emerged between working class and middle class areas in many parts of the country, a point accepted by the Minister of State for European Affairs.
The strong No vote in some working class areas is a potential problem for the Labour Party, and indeed for Fianna Fáil, and an opportunity for Sinn Féin and the United Left Alliance.
1309 There was a margin of just five votes in Dublin Mid West.
1307 Dublin West Results: Yes 58.18% No 41.82%
1306 Dublin Mid-West Result: Yes 50.01% No 49.99%
1302 Dublin South West Result: No 50.70% Yes 49.30%
1259 Donegal South West Result: No 54.95% Yes 45.05%
1257 David McCullagh: Even though the official result is not in yet, the fiscal treaty will be passed.
The only question now is exactly how big that majority will be.
At least 35 of the 43 constituencies have voted in favour; only three are definitely in the No column - that's the two Donegal constituencies, and Dublin North West; with a further five still in contention.
1252 So far, five of the 43 constituencies have declared results, with the Yes vote leading by just under 62% at the moment.
1250 Kildare North Result: Yes 65.28% No 34.72%
1249 Check here for individual constituency results as they come in (If using NewsNow app - go to m.rte.ie on your internet browser to access link)
1248 Four results in, 39 to go.
1246 Waterford Result: Yes 57.66% No 42.34%
1245 John Kilraine: Results are expected to be announced for Dublin city constituencies from 1430 onwards.
Final tallies show that four of the six constituencies are expected to vote Yes, but Dublin North West is expected to vote No and Dublin South Central is in the balance.
The highest Yes tally was in Dublin South East with 72% followed by Dublin North Central 63%, Dublin North East 54% and Dublin Central 52%.
1243 Limerick City Result: Yes 60.69% No 39.31%
1242 Galway East Result: Yes 63.25% No 36.75%
1239 Tipperary South Result: Yes 60.7% No 39.3%
1233 Tally turnout figure for Meath West is 46.9%.
1229 Taoiseach Enda Kenny and Tánaiste Eamon Gilmore are to make a statement following the result of the referendum at 3.30pm.
1224 Libertas founder and No campaigner Declan Ganley has said that "it clearly is a yes vote".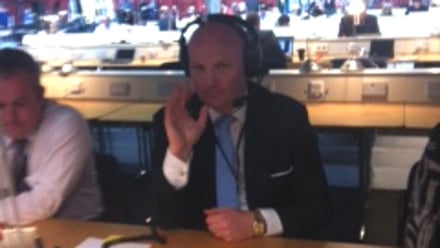 Speaking at the Dublin Castle count centre, Mr Ganley said the majority of the electorate in Ireland has "expressed trust and faith in our partners in Europe to do the right thing."
"I hope that that trust will be repaid," he added.
1222  Speaking in response to Mr Pringle, Minister of State Lucinda Creighton said that the ESM was compatible with the Constitution so there would be no referendum on it.
1219 Independent Deputy Thomas Pringle says there should be a referendum on the ESM - he says it is the mechanism the Government doesn't want the people to have a say on. 
1217 Tune in for an extended RTÉ News at One from 1pm. Watch studio webcam at www.rte.ie/livenews .
1156 David McCullagh: At the moment, tallies suggest that the highest Yes vote in the country could be in Dún Laoghaire or Dublin South East, which tallies show are both on 72% Yes. 
Though it is still possible that Dublin South could record a higher Yes vote -  it is currently on 66%, with some strong Yes areas still to be counted.
1155 Results in the Dublin constituencies are expected to be announced from around 2.30pm.
Counting is under way in all of the constituencies except Dublin South Central, the start of which has been delayed.
1154 Some sad news -  Former Ceann Comhairle and Fianna Fáil minister Padraig Faulkner has died aged 94.
Mr Faulkner represented Louth in Dáil Éireann for 30 years.
1149 Total turnout for Dublin South is 57.7%.
1147 Michael Marsh: Three things we have learned so far
1 Tally patterns seem to correspond broadly to the pattern in previous EU referendums, so that is some ground to give them credibility. The overall pattern looks like a Yes – with an overall figure of close to 60%
2 This is the sort of figure we have seen in most polls over the last few months and this will be good news for pollsters.
3 As in previous EU referendums there is a social divide, with better off areas voting Yes in bigger numbers and turning out in bigger numbers than in poorer areas – a pattern very clear in small polling districts. Even so, we don't expect to see any constituencies voting no as strongly as some will vote Yes.
1139 With 100% of boxes opened in Dublin North, Yes is at 64% an No at 36%. All boxes are also open in Dublin Mid-West, the No side is ahead by 51% to 49%.
Elsewhere, in Cork South-Central tallies show Yes ahead by 61% to 39% with all boxes open.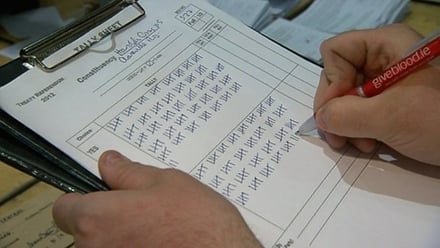 1137 Sinn Féin's Peadar Tóibín has said the party is disappointed at trends so far. He said his party felt the Treaty was bad for Ireland and bad for Europe.
Deputy Tóibín said it was clear lower and lower-middle income groups had voted No.
1136 David McCullagh: Although tallies have to be treated with caution, and although some constituencies do not have full tally operations in place, the picture that is emerging from count centres nationwide is consistent.
Very few constituencies seem to have voted No - these include the two Donegals, Louth, Dublin North West and South Central, and possibly Dublin North East.
1133 Lucinda Creighton has said there did appear to be a class divide in the tally results so far.
Ms Creighton said that the turnout - at an estimated 50% - was normal. She also said the Electoral Register was not entirely reliable.
1131 20 boxes out of 87 Carlow boxes have been tallied so far. There is a strong No vote coming from urban areas in the county, while rural areas are predominately showing a Yes vote.
1125 All boxes have now been opened in Kilkenny. With 50% of boxes tallied, the Yes side is at 64% and No at 36%.
1119 Independent Dublin South Central TD Joan Collins, who campaigned for a No vote, has said if it is a Yes vote "it will mean austerity ruled into law".
She said: "I think it's going to be a harder battle... but there will be resistance to it."
1118 With 100% of boxes open in Dublin South West, tallies show Yes on 51% and No on 49%.
1116 Anti-referendum campaigner Declan Ganley has said that it looks like it is going to be a Yes vote in the fiscal treaty referendum.
Mr Ganley said he is more concerned today than he was two days ago.
He said he believes Ireland is sending the wrong signal to Europe, that the "Irish are ok, that they are in full support and fully endorse the policy being pursued right now."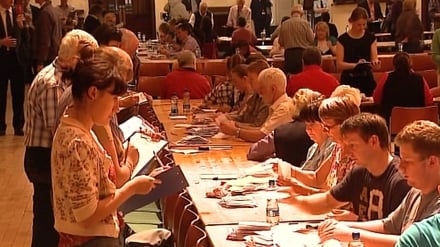 1114 With 100% of boxes opened in Cork South Central, the Yes side is ahead by 61% to 39%.
1113 With 100% of boxes opened in Galway East, tallies show the Yes side is ahead by 63% to 37%.
1112 Fianna Fáil leader Micheál Martin has said he believes many people who voted Yes yesterday "saw it as the lesser of two evils".
And Deputy Martin said that many people who voted No were "concerned about voting No".
Deputy Martin said those who talk about sending political signals to Europe are "playing political games".
1110 Socialist MEP Paul Murphy said early tallies would point to "strong class polarisation".
"Working class areas are strongly voting no, more affluent areas voting yes," Mr Murphy said.
A win for the yes side "wouldn't be a massive surprise", he said, as "that's what the polls have indicated".
1106 In Laois-Offaly, with 85% of boxes open, tallies show the Yes side ahead by 60% to 40%.
1058 David McCullagh reports: "With counting under way for just two hours, the fiscal treaty referendum seems certain to be passed, with tallies in most constituencies showing the Yes side ahead.
"Some No campaigners have already conceded they are likely to be defeated.
"Very few constituencies - including the two Donegals, Louth, Dublin North West and Dublin South Central, and possibly Dublin North East - seem likely at present to vote No."
1057 All boxes have now been opened in Cork East (Yes 60% No 40%) and Cork North West (Yes 66% No 34%).
1054  The Minister for Jobs, Enterprise, and Innovation, Richard Bruton, said he would be confident of a Yes vote in the high 50s in his own constituency (Dublin North Central), "which would be a good indicator for a succesful outcome."
In relation to the low turnout yesterday, he said we have seen a pattern of low turnout in referendums in recent years.
"They are complex issues, which people feel it hard to engage with at times," Mr Burton said.
1053 Minister of State Lucinda Creighton has said it looks like the referendum is going in a positive direction.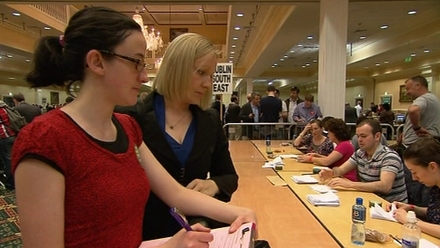 Speaking at the Citywest count centre this morning, she said she was "very optimistic and confident we will have a Yes vote".
1051 Tallymen have confirmed the tally for Corr na Móna (home village of Fianna Fáil Deputy Éamon Ó Cuív) to be as follows: 121 people voted Yes, 119 voted NO.
1049 In Kildare North, with 100% of the boxes open, tallies show Yes at 60% and No at 40%.
1048 Joan Burton has said this is a time of political uncertainty.
Speaking on RTÉ One, the Labour Party Deputy Leader said the extra taxes that would have been raised as a result of Joe Higgins' proposals would simply not have been enough.
She said she believed many people voted Yes because they did not want Ireland to go down the same road as Greece.
1045 Dublin city is currently showing the Yes vote leading in four of the six constituencies.
But the city is showing a strong social divide in the early tallies, with a strong No vote in Dublin South Central and Dublin North West.
The No vote was nearly 90% in parts of Balllyfermot, while in Sandymount it was 77% Yes.
1042 Joe Higgins has said this has been one of the most shameful campaigns, with fear as a major tool of the Government.
He said the right questions were not asked. He said no-one asked why we would actually need the funds from the European Stability Mechanism.
1040 In Dublin Mid-West, with 45% boxes opened, the Yes side is at 52% and No at 48%. In Longford-Westmeath, with 70% of boxes open, the Yes is ahead by 61% to 39%. With 95% of the boxes open in Tipperary South, the Yes vote is at 60% and No at 40%.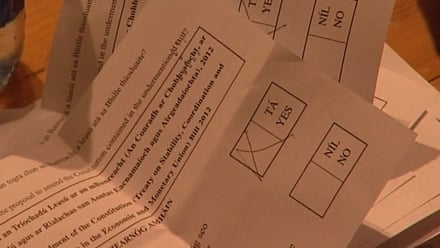 1038 Minister of State Brian Hayes has said that early indications from count centres around the country are encouraging.
The Fine Gael TD said that he thinks, at this stage, we are going to have a Yes vote.
Minister Hayes said it was quite clear from tallies that Irish people have put their country first, and have deciced to ratify this treaty.
1037 With 41% of boxes opened in Waterford, the tallies show 59% Yes and 41% No.
A geographical breakdown of the boxes tallied so far is indicating two to one support for a Yes vote in some of the city's middle class areas and rural towns and villages across the constituency, with a strong No vote in inner-city working class neighbourhoods.
1036 Ciaran Mullooly: Postal votes from Kildare suggest 80/20 Yes vote - Majority of these votes would apparently be members of Defence Forces.
1033 With 60% of boxes opened in Dublin Central, the tally stands at Yes 53% and No 46%.
1032 With 100 ballot boxes (49%) opened at the Greystones count centre in Wicklow, the Yes side still holds a strong lead of 16%.
Boxes from Bray and Delgany are currently being opened, with many of them showing a significant leaning (80%-20%) towards the Yes side.
1032 With 27% of the boxes tallied in Galway West - mostly Galway city boxes - all parties were reporting a majority of 62% to 38% in favour of the treaty being carried.
1031 With 60% of boxes open in Donegal North East, tallies stand at Yes 44% and No 56%.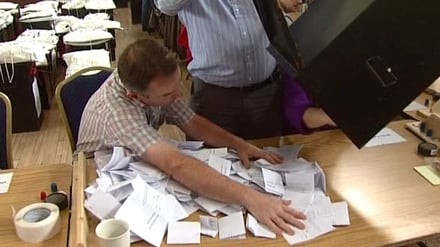 1028 In Dublin North Central, with 13% of boxes open, the tally is Yes 56% and No 44%.
1025 Longford-Westmeath TD James Bannon has said the absence of under 35 voters from the polling centres yesterday is going to play a significant part in the overall result.
Deputy Bannon said Fine Gael party workers had witnessed little or no young people voting in this referendum in this constituency.
1022 Minister for Transport Leo Varadkar has said it is looking positive for a Yes vote in the referendum.
Minister Varadkar said if he had to call the result nationally, he would be expecting 57% or 58% would vote Yes.
However, Minister Varadkar said the result would be a sigh of relief rather than a celebration.
1020 Joan Burton has said "referendum fatigue" may have been a factor in the voter turnout.
1019 Socialist Party TD Joe Higgins has said that the Yes tallies in certain areas seem to him to be resentful Yes votes, and he said this could spell trouble for the Government down the road.
1017 The constituency of ministers Ruairi Quinn and Lucinda Creighton - Dublin South East - has so far returned a 67% vote in favour of the treaty, with 38% of boxes tallied.
Tally men (working for Fine Gael and Labour) expect a final 75% vote in favour of the referendum, as remaining boxes to be counted are predominantly from parts of the constituency where a strong yes vote is anticipated, such as Ranelagh and Rathgar.
Votes from Donnybrook and Ballsbridge have been counted, as have those from less affluent parts of the consituency, such as Irishtown, Ringsend, and the south inner city, covered by the Whitefriar Street Count Centre.
1016 The Minister for Social Protection, Joan Burton, has said that although it is early yet, she believes the country is on track for a Yes vote.
1014 The tallies in Galway East, with 30% of the boxes opened, show the Yes is at 65% and the No at 35%.
The Yes vote in rural areas is running at 68% and at 63% in urban areas.
The Yes vote is ahead in all of the boxes opened so far. There has been no box where the No vote is ahead.
1010 The tally in Waterford, with 41% of boxes open, is Yes 58% No 42%.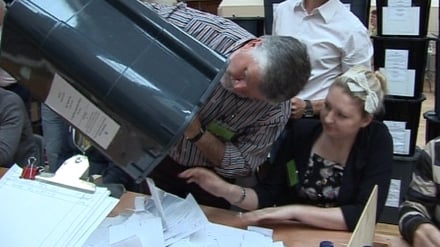 1009 With 60 of the 202 ballot boxes opened in Wicklow, the local tally suggests the Yes side is beginning to pull away with a 57% to 43% lead over the No. Local Fine Gael TD Simon Harris has arrived at the count centre to observe proceedings.
1004 In Donegal North East with 37% of the boxes opened, it is Yes 42% No 58%.
1003 In Sligo-North Leitrim with 38% of the boxes opened, it is Yes 55% No 45%.
1002 Taoiseach Enda Kenny has said yesterday was the "people's day" and that "very early" indications from his home constituency of Mayo were trending toward a Yes vote.
Speaking at the Mayo count centre in Castlebar this morning, the Taoiseach said "yesterday was the people's day, their answer has been given this morning and we'll see what will emerge by lunchtime".
Mr Kenny added he was "hopeful of a strong Yes vote, but you can never argue with the decision of the people in a vote like this. So we'll have to wait and see what the outcome will be."
He said the early indications in Mayo suggested a strong "run" on the Yes side.
0955 David McCullagh: It is still early days, and these first tallies need to be treated with considerable caution.
But the emerging picutre suggests that rural areas, and middle class areas in urban centres, have supported the fiscal treaty, while there have been strong No votes in many working class areas.
In Waterford, which is normally close to the national average, the Yes vote is ahead by 55% to 45%, although that is with just 15% of the boxes opened.
However it is early days, and the picture could well change significantly as the count goes on.
0953 With 60% of boxes open in Limerick City the Yes is at 60% while No is at 40%. In Limerick, the Yes are are on 57% and No on 43% with 70% of boxes open.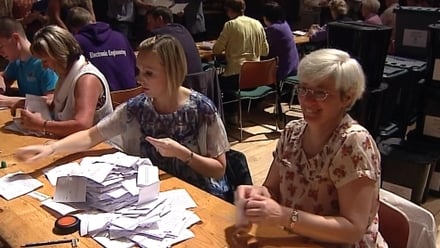 0950 A tally from Dublin South, with 7.7% of boxes open, has Yes at 69% and No at 31%.
0948 With 20 of the 191 boxes tallied in Louth, the Yes is on 52% and the No on 48%.
The turnout looks low and the boxes include a mainly urban bias. The boxes tallied include East Meath, which is now part of the Louth constituency.
In one box in Blackrock (south of Dundalk), which had a strong Fine Gael vote in the General Election, the Yes had 188 votes while the No had 86.
In Rathmullen in Drogheda, where Sinn Féin have strong support, the No campaign had 192 votes and the Yes had 47.
0946 Early tallies indicate a Yes vote will be carried in Cork as no box has yet been seen to favour a No vote.
Roughly about 20% of boxes from the three constituencies of Cork North West, Cork South West and Cork East have been opened at this stage.
0943 A tally in Dublin North has Yes at 40% and No at 60%.
0939 With 10% of boxes open in Dublin North West, the tally has Yes at 47% and No at 52%.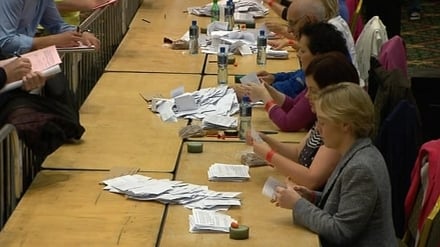 0924 Early tallies on a rural ballot box at the Waterford count centre is suggesting a 55% Yes vote to a 45% No vote.
0914 Sorting and counting of votes is under way in Greystones with ballot boxes from Arklow currently being opened.
There is a sophisticated cross-party tally in operation. The tally includes representatives from all major political parties.
Early local reports suggest a turnout of roughly 50% for the Wicklow constituency.
0903 All the boxes for the fiscal treaty referendum for the Dublin City constituencies are expected to be opened by 10.30am, according to Assistant Returning Officer James Barry.
Tally men are being allowed into the count hall at Citywest around now.
0900 Counting of votes in the fiscal treaty referendum is getting under way, with first indications of the likely result expected by mid-morning. 
Estimates suggest that only around half of those eligible to vote in the referendum actually did so, but there is no firm agreement on who will benefit from a relatively low turnout.