Donegal County Council has been accused of having the worst planning record in the country.
It came bottom of a league table of local authorities drawn up by heritage body An Taisce as part of its ''Review of Ireland's Planning System''.
Donegal was followed by Roscommon, Leitrim and Kerry in a study that used overzoning, the number of decisions overturned by An Bord Pleanála and amount of ghost estates among its criteria.
Of the 34 city and county councils assessed; 17 received a C or D grade, eight received an E grade, five received an F grade, and four councils received an F- grade.
Donegal had over 5,500 acres zoned for housing in 2010 - enough for an additional 180,000 people. Despite this, 50% of all new residential planning permissions over the last ten years was for land that was unzoned.
The best councils - with a C grade - were South Dublin, Dún Laoghaire/Rathdown, Galway City and Fingal.
"A systemic failure of planning in Ireland helped inflate the property bubble, leaving in its wake a great deal of poor quality development, reckless overzoning, chaotic sprawl, a legacy of 'ghost' development and widespread environmental degradation," An Taisce said in its report.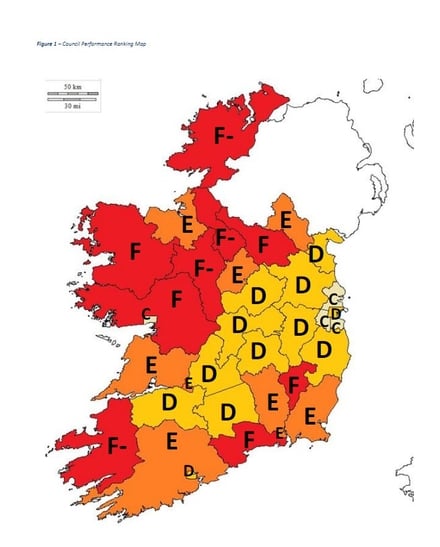 An Taisce said councils that scored poorly generally had the highest rate of residential vacancy, population decline and out-migration, the highest levels of unfinished ''ghost estates'', lower residential property prices and significant instances of ground and surface water pollution.